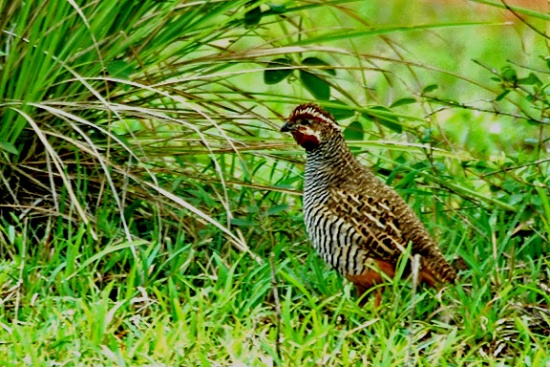 Perdicula asiatica
Identification
15-18 cm.
Bright chestnut forehead, throat and supercilium, enclosed by white lateral crown-stripe, eyeline, moustachial stripe and malar
Distinct bown cheek-patch
Broad black blotches on scapulars and rufescent undertail-coverts
Male with heavily barred black-and-white underparts and rufous-buff belly and vent
Female with unbarred vinous-buff underparts (darker than Rock Bush Quail)
Juveniles have no rufous on face and a broad pale supercilium.
Similar species
Very similar to Rock Bush Quail but with more contrasting markings. Rock Bush Quail lacks the white bordering above the rufous stripe above the broader and paler eyebrow. There is also no distinct brown cheek patch and little or no black splotching or white streaks on upperparts.
Distribution
Found in India and Sri Lanka.
Introduced on Reunion Island (where still found) and Mauritius Island (where extinct).
Locally common but also declining in other parts of its range (eg Sri Lanka).
Taxonomy
Four to five subspecies recognized:
vellorei is not listed in Clements.
Habitat
Brush habitats and dry scrub. From grasslands to rather dense deciduous forest.
Occurs up to 1250 m, recorded up to 1500 m in Western Ghats.
Behaviour
Diet
Feeds on seeds and some insects.
Forages in coveys of 6 to 25 birds.
Breeding
Breeding season at the end of the rainy season. A monogamous species. The nest is placed on the ground in cover. Lays 5 to 6 eggs.
Movements
Probably a sedentary species.
References
Clements, J. F., T. S. Schulenberg, M. J. Iliff, D. Roberson, T. A. Fredericks, B. L. Sullivan, and C. L. Wood. 2015. The eBird/Clements checklist of birds of the world: v2015, with updates to August 2015. Downloaded from http://www.birds.cornell.edu/clementschecklist/download/
Handbook of the Birds of the World Alive (retrieved May 2016)
Recommended Citation
External Links