Chrysococcyx klaas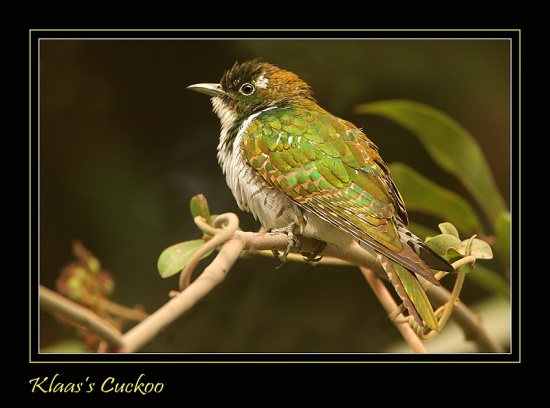 Identification
Length 16-18 cm.
Adult male: Glossy-green upper parts with a white patch behind the eye. Under parts white.
Adult female: Bronzy-brown above and white with fine brown bars below.
Distribution
Africa and southern Arabian Peninsula: Angola, Benin, Botswana, Burkina Faso, Burundi, Cameroon, Central African Republic, Chad, Congo, Ivory Coast, Equatorial Guinea, Eritrea, Ethiopia, Gabon, Gambia, Ghana, Guinea, Guinea-Bissau, Kenya, Liberia, Malawi, Mali, Mauritania, Mozambique, Namibia, Nigeria, Rwanda, Sao Tome and Principe, Senegal, Sierra Leone, Somalia, South Africa, Sudan, eSwatini, Tanzania, Togo, Uganda, Yemen, Zambia, and Zimbabwe
Taxonomy
Monotypic.
Habitat
Forest, woodland, savanna, parks and gardens.
Behaviour
Breeding
A brood parasite. Hosts include Batises, small warblers and sunbirds.
References
Hockey, PAR, WRJ Dean, and PG Ryan, eds. 2005. Roberts' Birds of Southern Africa. 7th ed. Cape Town: John Voelcker Bird Book Fund. ISBN 978-0620340533
Sinclair, I and P Ryan. 2003. Birds of Africa South of the Sahara. Princeton: Princeton Univ. Press. ISBN 978-0691118154
Recommended Citation
External Links