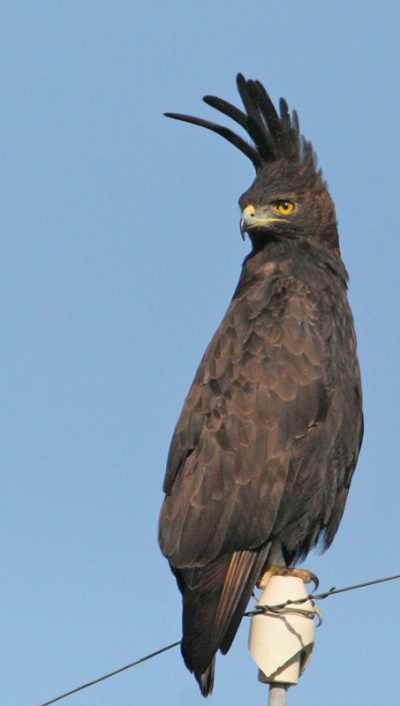 Lophaetus occipitalis
Identification
50–58 cm (19¾-22¾ in)
Dark brown or black overall plumage
Broad rounded wings
White patches at the joint of the wing both above and below
White under-wing coverts spotted with black
White base to the tail
Golden to reddish brown eyes
Yellow cere and feet

Immatures can be differentiated from the adult by the neck feathers having whiter tips, a less noticeable crest, and a more mottled appearance. The eyes are dark olive-brown, the feet and cere pale ochre-yellow.
Distribution
Sub-Saharan Africa: widespread from Senegal east to Ethiopia and south to Angola and the Cape. Absent from the most arid areas of the Horn of Africa and the south-west.
Taxonomy
This is a monotypic species[1].
Habitat
Woodland, forest edge and plantations, cultivated areas with trees and swampy grasslands, from sea-level up to 3,000m.
Behaviour
Diet
The diet consists mostly of small rodents and shrews in addition they will also eat lizards, small snakes and small mammals.
Breeding
They generally lay during the wet season. Both adults construct the nest in a tree, about two feet across by a foot deep; made of small sticks, and with a deep central cup about one foot across, lined with green leaves. The clutch contains 1-2 white eggs, marked brown, grey, lilac, which are incubated by the female.
Movements
Resident and in some areas, nomadic.
References
Clements, J. F., T. S. Schulenberg, M. J. Iliff, D. Roberson, T. A. Fredericks, B. L. Sullivan, and C. L. Wood. 2018. The eBird/Clements checklist of birds of the world: v2018. Downloaded from http://www.birds.cornell.edu/clementschecklist/download/
Avibase
Handbook of the Birds of the World Alive (retrieved May 2019)
Recommended Citation
External Links