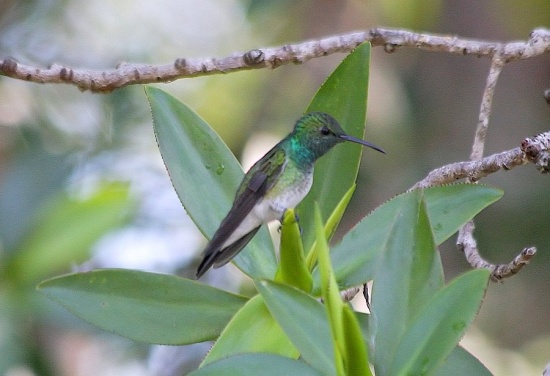 Amazilia boucardi
Identification
10–11 cm (4-4¼ in)
Bronze and green overall plumage

Male
Dark bill, reddish lower mandible
Green crown and upperparts (bronzed on rump and tail)
Bluish-green throat and breast
White belly
Forked tail

Female: similar
Mainly white underparts
Small green spots on the throat and sides
Distribution
Endemic to Costa Rica.
Taxonomy
This is a monotypic species[1].

This species is sometimes placed in genus Polyerata.
Habitat
Just as closely linked to mangroves as the name would indicate
Behaviour
Diet
Their main diet consists of nectar from both native and introduced plants.
Breeding
Their small cup nest is constructed from balsa floss, plant down and cobwebs.
References
Clements, J. F., T. S. Schulenberg, M. J. Iliff, S. M. Billerman, T. A. Fredericks, B. L. Sullivan, and C. L. Wood. 2019. The eBird/Clements Checklist of Birds of the World: v2019. Downloaded from http://www.birds.cornell.edu/clementschecklist/download/
Weller, A.A., de Juana, E., Boesman, P. & Sharpe, C.J. (2019). Mangrove Hummingbird (Amazilia boucardi). In: del Hoyo, J., Elliott, A., Sargatal, J., Christie, D.A. & de Juana, E. (eds.). Handbook of the Birds of the World Alive. Lynx Edicions, Barcelona. (retrieved from https://www.hbw.com/node/55504 on 25 August 2019)
Luther, D. (2009). Mangrove Hummingbird (Amazilia boucardi), version 1.0. In Neotropical Birds Online (T. S. Schulenberg, Editor). Cornell Lab of Ornithology, Ithaca, NY, USA. https://doi.org/10.2173/nb.manhum1.01
Recommended Citation
External Links
GSearch checked for 2020 platform.1