Alternative name: Marbled Duck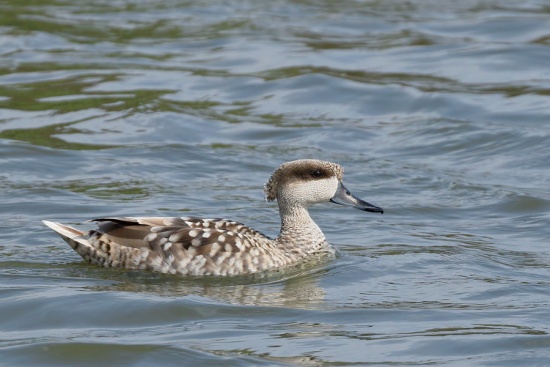 Marmaronetta angustirostris
Identification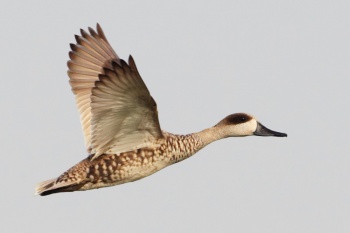 39–48 cm (15½-19 in)
Pale spots over back
Barred chest
Dark band behind eye
Pale face
Black bill
Pale hindwing visible in flight

Male has a drooped crest at nape
Distribution
Rare resident and summer visitor to a few scattered sites around the western and eastern ends of the Mediterranean and in parts of the Middle East and Central Asia. Formerly much more widespread, breeding in the west is now confined to the Guadalquivir marismas of southern Spain and a few other sites in south-east Spain, in North-West Africa in Morocco, possibly still in Algeria and Tunisia. Has recently bred in Mallorca and Sicily and increasingly reported from Fuerteventura in the Canary Islands.
In the east it survives in isolated pockets in southern Turkey and Armenia, Azerbaijan and in Iraq and Iran and possibly breeds sporadically in Syria, Jordan and Israel. More widespread in Central Asia with breeding in Uzbekistan, Turkestan and Afghanistan perhaps also far western China.
Movements are little understood and vary from site to site but some birds disperse from breeding areas, some remain all year. Known to cross from Spain to Morocco, possibly in response to changing water levels.
Rarely seen outside limited breeding or wintering areas but vagrancy possible and occasionally occurs in sub-Saharan Africa. Has been reported north to Britain and Denmark but most birds in northern Europe are likely to originate from captivity.
Taxonomy
This is a monotypic species[1].
Habitat
Small, shallow freshwaters with abundant marginal, floating and submerged vegetation. Sometimes on slow-flowing rivers, reservoirs or brackish lagoons
Behaviour
Diet
They are omnivorous, eating a variety of seeds, tubers, roots and stems of aquatic plants, as well as water insects and and their larvae, molluscs and worms etc.
Vocalisation
References
Clements, J. F., T. S. Schulenberg, M. J. Iliff, D. Roberson, T. A. Fredericks, B. L. Sullivan, and C. L. Wood. 2017. The eBird/Clements checklist of birds of the world: v2017, with updates to August 2017. Downloaded from http://www.birds.cornell.edu/clementschecklist/download/
Birdwatchers Pocket Guide ISBN 1-85732-804-3
Collins Bird Guide ISBN 0 00 219728
Recommended Citation
External Links
GSearch checked for 2020 platform.1