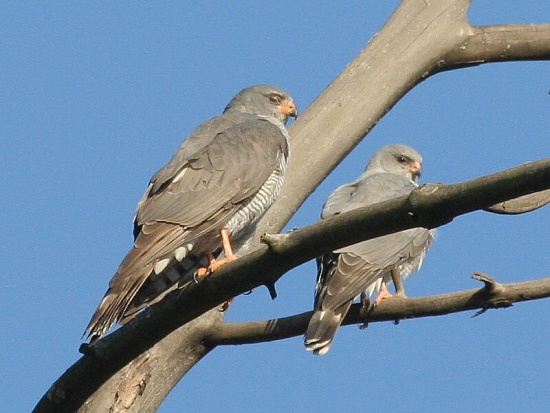 Alternative name: Ovampo Sparrowhawk
Accipiter ovampensis
Identification
30–40 cm (11¾-15¾ in)
Adult
Grey above
White with brownish grey barring below
Red eye
Black bill and cere
Orange-yellow legs and feet
Distribution
Sub-Saharan Africa:
Western Africa: The Gambia, Mali, Ivory Coast, Burkina Faso, Benin, Nigeria, Niger, Chad, Cameroon, Equatorial Guinea, Democratic Republic of Congo, Angola
Eastern Africa: Sudan, South Sudan, Kenya, Uganda, Rwanda, Burundi, Tanzania, Zambia, Mozambique, Malawi
Southern Africa: Namibia, Botswana, Zimbabwe, South Africa
Taxonomy
This is a monotypic species[1].
Habitat
Borders of drier woodlands, savanna and exotic plantations with surrounding savanna.
Behaviour
Diet
Feeds mainly on birds (up to the size of Red-eyed Dove). Prey is taken from a perch or from a soaring position.
Breeding
The nest is constructed mainly by the female.
References
Clements, J. F., T. S. Schulenberg, M. J. Iliff, D. Roberson, T. A. Fredericks, B. L. Sullivan, and C. L. Wood. 2017. The eBird/Clements checklist of birds of the world: v2017, with updates to August 2017. Downloaded from http://www.birds.cornell.edu/clementschecklist/download/
Avibase
Gibbon, G. 2002. Roberts' Multimedia Birds of Southern Africa: Version 3. John Voelcker Bird Book Fund. www.sabirding.co.za
Handbook of the Birds of the World Alive (retrieved July 2018)
Recommended Citation
External Links