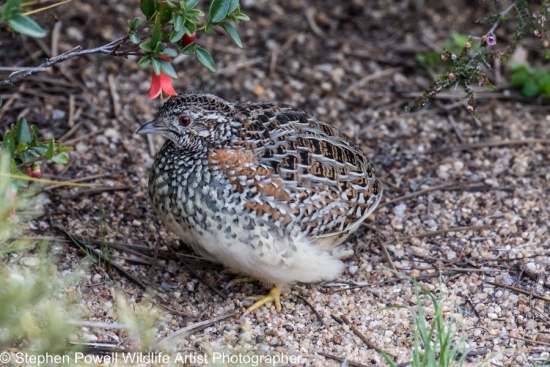 Turnix varius
Identification
17–23 cm (6¾-9 in)

Reddish-brown overall plumage
Pale spots on forehead and breast
Red eye
Chestnut shoulders

Female is brighter than the male.
Juvenile is smaller and grey, more mottled, pale eyes.
Distribution
Taxonomy
Forms a superspecies with Buff-breasted Buttonquail and Chestnut-backed Buttonquail.
The scientific name was formerly spelled varia.
Subspecies
There are 3 subspecies[1]:
T. v. novaecaledoniae - New Caledonia
T. v. scintillans - Houtman Abrolhos Islands (off sw Australia)
T. v. varius - SW, e and se Australia and Tasmania
Habitat
Scrub, grassy woodland, open banksia, eucalypt and acacia forests, grassy clearings in dense forest, and heath.
Behaviour
Diet
There is not a lot known, however, grass seeds, insects and fruits are know to be consumed.
Breeding
Polyandrous. The clutch consists of 3-4 eggs which are incubated by the male for 13-14 days. They are fed by the male and reach adulthood in 23 days.
References
Clements, J. F., T. S. Schulenberg, M. J. Iliff, D. Roberson, T. A. Fredericks, B. L. Sullivan, and C. L. Wood. 2017. The eBird/Clements checklist of birds of the world: v2017, with updates to August 2017. Downloaded from http://www.birds.cornell.edu/clementschecklist/download/
Handbook of the Birds of the World Alive (retrieved Nov 2017)
Birdata.com.au, Raw Data for Map
Wikipedia
BF member observations
Recommended Citation
External Links