Alternative name: Red-capped Madagascar Coucal
Coua ruficeps
Identification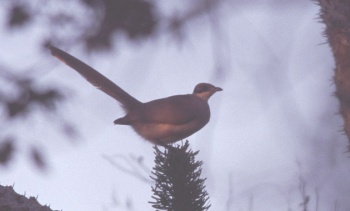 42cm.
Light greenish brown upperparts
Rufous front and top of head
Blue skin around eye with black line below
Dark brown to purplish tail with white edge
White throat, tawny lower throat
Purplish light chest
Pale rufous to whitish belly
Black bill and feet
olivaceiceps is paler, the crown is light brown-green
Sexes alike. Juveniles dull with light brown crown, juveniles of olivaceiceps with barred back, grey crown and breast barred grey on white.
Distribution
Endemic to western and southwestern Madagascar.
Common also in degraded wooded habitats and obviously relatively adaptable to habitat modification.
Taxonomy
Subspecies[1]
There are 2 subspecies:
Lowlands of south-western Madagascar
Habitat
Dry forests and moist lowland forests. Also in second growth.
Occurs from sea-level up to 850m.
Behaviour
A terrestrial species.
Diet
Feeds on insects, takes also fruits.
Forages on the ground.
Breeding
Breeding season from November to December. The nest is a shallow bowl made of thin branches, creepers and bark. Lays 2 eggs.
Movements
This is a resident species.
References
Clements, J. F., T. S. Schulenberg, M. J. Iliff, B.L. Sullivan, C. L. Wood, and D. Roberson. 2013. The eBird/Clements checklist of birds of the world: Version 6.8., with updates to August 2013. Downloaded from http://www.birds.cornell.edu/clementschecklist/download/
Del Hoyo, J, A Elliot, and J Sargatal, eds. 1997. Handbook of the Birds of the World. Volume 4: Sandgrouse to Cuckoos. Barcelona: Lynx Edicions. ISBN 978-8487334221
Recommended Citation
External Links