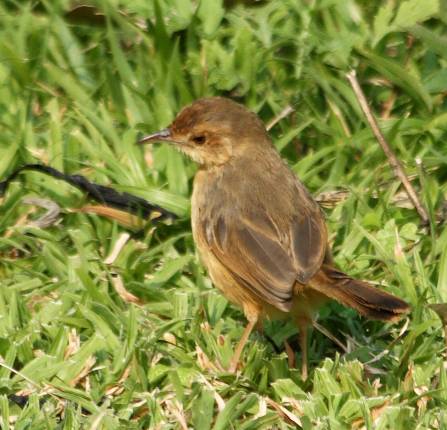 Cisticola erythrops
Includes Lepe Cisticola
Identification
Length 14 cm, mass 15 g. Upperparts light olive grey, with a rusty buff forecrown and an indistinct pale eyebrow. The face is light rufous.
In summer, creamy white below, and buff on the breast.
In winter, the breast and throat are tawny. The eyes are brown, the bill dark horn and the legs and feet pinkish.
Most easily identified by the loud weet-weet-weet call-notes from its song.
Distribution
Sub-Saharan Africa; distribution patchy.
Taxonomy
Six subspecies recognized:
Habitat
Tall, rank vegetation (reedbeds, tall grass and weedy areas) in or near wetlands, and along streams and rivers.
Behaviour
Found singly, or in pairs or small groups; very vocal.
Diet
Forages in the undergrowth for insects and other invertebrates.
References
Clements, J. F., T. S. Schulenberg, M. J. Iliff, D. Roberson, T. A. Fredericks, B. L. Sullivan, and C. L. Wood. 2017. The eBird/Clements checklist of birds of the world: v2017, with updates to August 2017. Downloaded from http://www.birds.cornell.edu/clementschecklist/download/
Hockey PAR, Dean WRJ & Ryan PG (eds) 2005. Robert's Birds of Southern Africa, 7th edition. Cape Town: John Voelcker Bird Book Fund. ISBN 0620340533
Recommended Citation
External Links