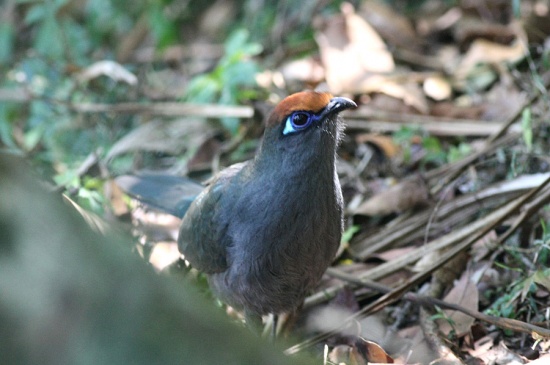 Alternative names: Reynaud's Coua, Red-fronted Madagascar Coucal
Coua reynaudii
Identification
38 - 40cm.
Olive-green upperparts
Rufous crown
Blackish face with blue bare skin around eye
Long green tail with blue gloss and dark tip
Darker grey underparts
Sexes alike. Juveniles have dull rufous-brown head and neck, wing-coverts and wing feathers tipped rufous, dull rufous underparts and a yellow bill.
Distribution
Endemic to northern and eastern Madagascar.
Still fairly common in its rather small range.
Taxonomy
This is a monotypic species.
Habitat
Moist lowland forests, especially in tangles of fallen trees and branches. Also in clearings and brushy areas and dry forest in western part of range.
Occurs from sea-level up to 2500m.
Behaviour
A terrestrial species.
Diet
Feeds on insects, takes also lizards sometimes and fruits and seeds.
Forages slowly on the forest floor and in low herbs, also walks up sloping trunks and perches in trees.
Breeding
Breeding season from August to January. The nest is a bowl made of dry stalks, palm fibres and leaves. It's placed 5 to 7 m above the ground in a pandanus tree or ferns. Lays 2 eggs.
Movements
This is a resident species.
References
Clements, J. F., T. S. Schulenberg, M. J. Iliff, B.L. Sullivan, C. L. Wood, and D. Roberson. 2013. The eBird/Clements checklist of birds of the world: Version 6.8., with updates to August 2013. Downloaded from http://www.birds.cornell.edu/clementschecklist/download/
Del Hoyo, J, A Elliot, and J Sargatal, eds. 1997. Handbook of the Birds of the World. Volume 4: Sandgrouse to Cuckoos. Barcelona: Lynx Edicions. ISBN 978-8487334221
Recommended Citation
External Links