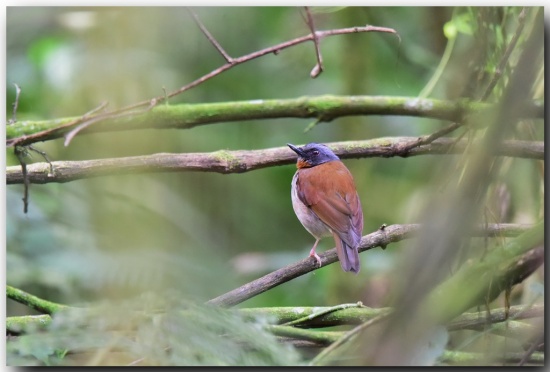 Chamaetylas poliophrys
Alethe poliophrys
Identification
15 cm (6 in).
Black crown encircled by broad grey line from forehead through supercilium to nape
Rufous-chestnut mantle to rump
Dark brown wings and tail with rufous-chestnut fringes
Greyish-black face and chin
Orange-rufous throat
Brownish-white breast, shading to whitish on belly and vent
Black bill, pale greyish-pink legs
Variations
kaboboensis is browner, less rufous above and with a paler throat
Sexes similar.
Juveniles are blackish with pale orange streaks above, wing-coverts tipped pale orange and black, blackish below to belly with neat buff streaking, shading to off-white lower belly and vent.
Distribution
Burundi, Democratic Republic of the Congo, Rwanda, and Uganda.
Common in its restricted range.
Taxonomy
May form a superspecies with Cholo Alethe, White-chested Alethe and Brown-chested Alethe.
Formerly placed in genus Alethe and in Pseudalethe by Clements. However, Chamaetylas has priority over Pseudalethe.
Subspecies
Two subspecies recognized:
C. p. kaboboensis in eastern DRC (Mount Kabobo)
Habitat
Dense undergrowth of moist montanes.
Occurs at 1300 to 3000 m.
Behaviour
Diet
Feeds on invertebrates like beetles, flies, army ants, spiders, earthworms and snails.
Forages on the ground, occasionally flying up to glean prey from lianas and trunks. Follows ant swarms, also joins mixed flocks, especially in the dry season.
Breeding
Breeding season in March in Uganda, September to October in Rwanda, probably all year in DRC. The nest is a cup made of green moss, placed low off ground in a natural cleft. Lays 2 eggs.
Movements
This is a sedentary species.
References
Clements, J. F., T. S. Schulenberg, M. J. Iliff, D. Roberson, T. A. Fredericks, B. L. Sullivan, and C. L. Wood. 2018. The eBird/Clements checklist of birds of the world: v2018. Downloaded from http://www.birds.cornell.edu/clementschecklist/download/
Del Hoyo, J, A Elliot, and D Christie, eds. 2005. Handbook of the Birds of the World. Volume 10: Cuckoo-Shrikes to Thrushes. Barcelona: Lynx Edicions. ISBN 978-8487334726
Avibase
Recommended Citation
External Links