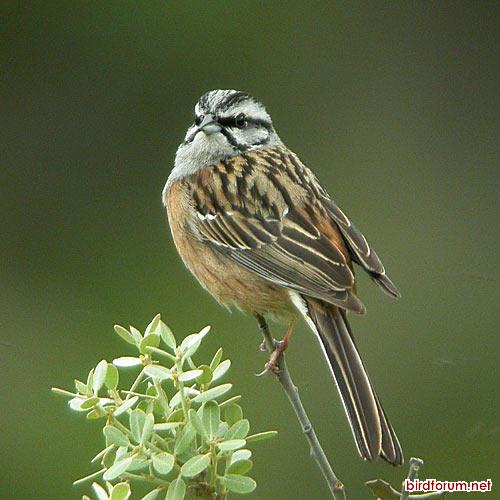 Emberiza cia
Identification
15–16·5 cm (6-6½ in)
Grey bill
Longish thin tail
Male: Reddish-brown upperparts, white-outer tail feathers, stripey grey-and-black head pattern.
Female and Juvenile: duller with streaked crown, breast and flanks
Distribution
Breeds throughout Iberia except on Mediterranean coast, southern France in the Massif Central and Alps of Switzerland, north in Germany along the Rhine and east into Austria. In Italy breeds in the Apennines and in northern Sicily and also breeds from Slovenia to Greece and east to Romania and Bulgaria and in the Carpathians in Slovakia and north & central Hungary. Breeds across much of Turkey to the Caucasus and southern Crimea, in the Middle East south to northern Israel. In North Africa breeds from central Morocco to north Tunisia.
Northern birds may be partially migratory but most are resident or altitudinal migrants. Rare winter visitor to Iraq.
Vagrants recorded north to Britain, Sweden, Poland and Germany, also Malta, Cyprus, Libya and Kuwait.
Taxonomy
Subspecies
There are 4 subspecies[1]:
E. c. prageri: larger, paler and more heavily streaked with a buff rump than nominate
Habitat
Dry rocky hillsides with sparse vegetation, sometimes vineyards and olive groves, juniper scrub and subalpine meadows, crags and ruins. Often at fairly high altitude and reaches 4000m in parts of range, usually under 1500m in Europe.
Behaviour
Flicks tail open when on the ground feeding.
Breeding
They nest on, or near, the ground.
Vocalisation
Call: includes weak zeet and thin seee.
References
Clements, J. F., T. S. Schulenberg, M. J. Iliff, D. Roberson, T. A. Fredericks, B. L. Sullivan, and C. L. Wood. 2018. The eBird/Clements checklist of birds of the world: v2018. Downloaded from http://www.birds.cornell.edu/clementschecklist/download/
Birdwatchers Pocket Guide ISBN 1-85732-804-3
Collins Field Guide 5th Edition
Recommended Citation
External Links