Apalis ruddi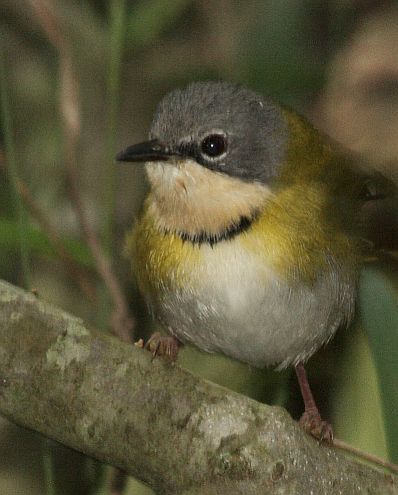 Identification
Length 13 cm, mass about 10 g.
Adult: The head is dark grey with a short pale eyebrow and a small black facemask. The back is olive and the under parts are mostly white with a black collar and yellow on the flanks and sides of the breast. The eye is dark brown.
Similar Species
Similar to the Bar-throated Apalis, but this species is lighter in color, has no eyebrow, and has a pale instead of brown eye.
Distribution
The main population is found between 22°S and 29°S on a broad coastal strip in southern Mozambique, north-eastern KwaZulu-Natal (South Africa), and eastern Swaziland; a second, isolated population is found in lowland southern Malawi.
Taxonomy
Apalis ruddi has three subspecies:
Habitat
Forests, thickets and moist shrubland with dense undergrowth.
Behaviour
Generally found singly or in pairs; joins mixed-species feeding flocks. Forages actively for insects in foliage.
Breeding: Monogamous and territorial. The nest is an oval ball with an entrance near the top built by the female using grass and stems and camouflaged using moss, silk or lichen. One to three eggs are laid September to November. Nestlings are fed by both adults.
References
Gibbon, G. 2002. Roberts' Multimedia Birds of Southern Africa: Version 3. John Voelcker Bird Book Fund. www.sabirding.co.za
Hockey PAR, Dean WRJ & Ryan PG (eds) 2005. Robert's Birds of Southern Africa, 7th edition. John Voelcker Bird Book Fund, Cape Town, South Africa. ISBN 0620340533
External Links