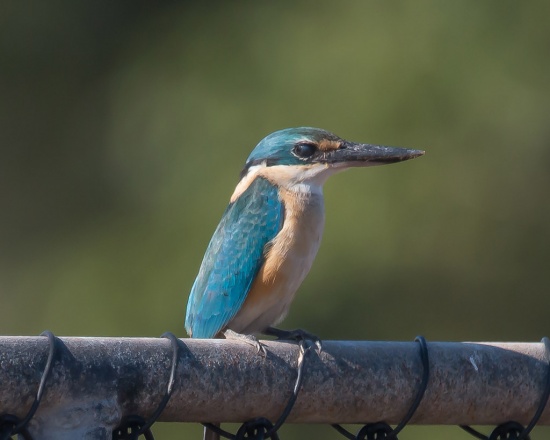 Todiramphus sanctus
Halcyon sancta, Todirhamphus sancta
Identification
22 cm (8¾ in)

Turquoise back, rump and tail
Buff-white underparts
Broad cream collar
Broad black eye stripe extending from bill to nape of neck
Buff spot in front of eye

Sexes are similar, although the female is generally lighter with duller upper parts.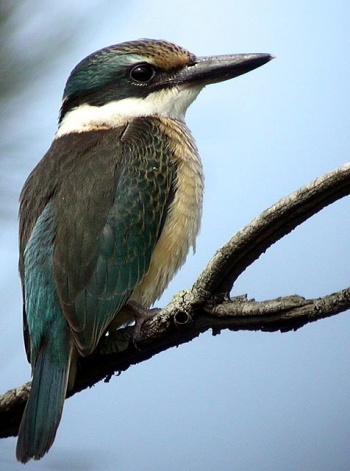 Distribution
Australia, Tasmania, New Zealand, Norfolk Island, Lord Howe Island, Loyalty, Kermadec & Solomon Islands, Futuna & Fiji Islands, New Caledonia.
Winters north to New Guinea, Indonesia & Melanesia.
Taxonomy
Subspecies
There are 4 subspecies[1]:
T. s. vagans (norfolkiensis, adamsi) :
The subspecies vitiensis, eximius and regina of Collared Kingfisher are sometimes placed in this species.
Habitat
Woodlands, mangroves and paperbark forests, tall open eucalypt forest near water.
Behaviour
Diet
The diet mostly consists of crustaceans, reptiles, insects and their larvae and, occasionally, fish. Hunts from, and returns to, the same low, exposed perch.
Breeding
The nest hole is excavated by both sexes, normally in a termite mound, but could be a hollow branch or into the river bank. The unlined nest chamber can be as much as 20m above ground. Three to six eggs are laid and cared for by oth adults. The chicks hatch after about 18 days and leave the nest after a further 26 days.
References
Clements, J. F., T. S. Schulenberg, M. J. Iliff, D. Roberson, T. A. Fredericks, B. L. Sullivan, and C. L. Wood. 2017. The eBird/Clements checklist of birds of the world: v2017, with updates to August 2017. Downloaded from http://www.birds.cornell.edu/clementschecklist/download/
Birds in Backyards
BF Member observations
Recommended Citation
External Links