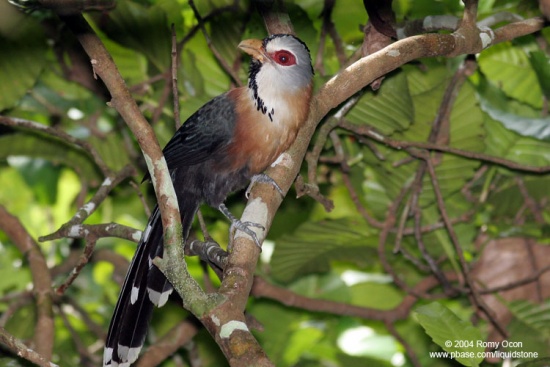 Alternative names: Scale-feathered Cuckoo, Scaly Cuckoo
Dasylophus cumingi
Phaenicophaeus cumingi
Identification
42cm. A unique malkoha.
Grey head with flat, scaly glossy blue-black feathers
Dark brown upperparts
Glossy dark green to blue wings and rump
Blackish tail with white tip
Chestnut breast and dull black belly
Red bare skin around eye, dotted with small warts
Pale creamy-buff to brown bill
Sexes similar. Juveniles have a reddish brown head, wings and body, becoming blackish glossed bluish green over lower back, rump and wings. The scaly head feathers begin to grow when the bird is still short-tailed.
Distribution
Endemic to the northern Philippines where found on Luzon, Marinduque and Catanduanes.
Fairly common in suitable habitat. However the continued forest destruction surely presents a major threat to this species.
Taxonomy
This is a Monotypic species.
Placed in genus Dasylophus by Dickinson (2003) and Gill & Wright (2008). Others place it in Phaenicophaeus or in its own genus Lepidogrammus.
Habitat
Forests with dense vines.
Occurs from lowlands up to 2000m.
Behaviour
Diet
Feeds on insects, scorpions, snails, worms and small lizards and snakes. Known to prey on small passerines trapped in mist-nets. Forages in lower strata of forest. Usually seen singly or in small groups. Often found in mixed-species flocks.
Breeding
Presumed breeding season from March to May. The nest is reported to be a flimsy, cup-shaped structure. Lays 2 to 3 egg.
Movements
A resident species. However a record from Dalton Pass suggest some dispersal.
References
Clements, J. F., T. S. Schulenberg, M. J. Iliff, B.L. Sullivan, C. L. Wood, and D. Roberson. 2012. The eBird/Clements Checklist of Birds of the World. 6th ed., with updates to October 2012. Ithaca: Cornell Univ. Press. ISBN 978-0801445019. Spreadsheet available at http://www.birds.cornell.edu/clementschecklist/downloadable-clements-checklist
Del Hoyo, J, A Elliot, and J Sargatal, eds. 1997. Handbook of the Birds of the World. Volume 4: Sandgrouse to Cuckoos. Barcelona: Lynx Edicions. ISBN 978-8487334221
Gill, F and D Donsker (Eds). 2012. IOC World Bird Names (version 3.2). Available at http://www.worldbirdnames.org/.
Dickinson EC (ed.) 2003. The Howard & Moore Complete Checklist of the Birds of the World. 3rd ed. Princeton Univ. Press, Princeton, NJ, USA. ISBN 9780691117010
External Links