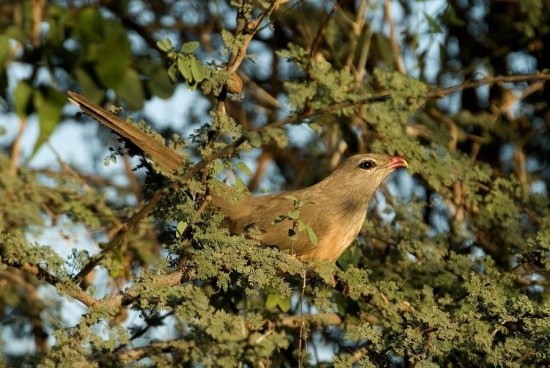 Alternative names: Sirkeer, Sirkeer Cuckoo, Southern Sirkeer
Taccocua leschenaultii
Phaenicophaeus leschenaultii
Identification
42cm. Brown and rufous, long heavy tail edged with prominently white tipped graduated cross-rayed tail feathers. Bill is hooked, bright cherry-red and yellow. Sexes are similar, but juveniles are duller and barred above.
Distribution
Found in Bangladesh, Sri Lanka, Pakistan, Nepal and India.
Generally uncommon to rare in its range.
Taxonomy
Three subspecies recognized:
T. l. infuscata in most of India
Placed in genus Taccocua by Dickinson (2003) and Gill & Wright (2008), formerly placed in Phaenicophaeus.
Habitat
Largely terrestrial, open scrub and thorn jungle, deciduous secondary jungle.
From plains up to 1000m, usually lower.
Behaviour
A terrestrial species, forages mainly on the ground and often runs.
Diet
Feeds on large insects. Takes also lizards, berries and fruits.
Breeding
Breeding season from June to September in India, June to July in Sri Lanka. The nest is a saucer made of twigs and green leaves. It's placed near the ground in a thorn bush. Lays 2 to 3 chalky white eggs. Both sexes incubate.
Movements
A resident species.
References
Clements, J. F., T. S. Schulenberg, M. J. Iliff, B.L. Sullivan, C. L. Wood, and D. Roberson. 2012. The eBird/Clements Checklist of Birds of the World. 6th ed., with updates to October 2012. Ithaca: Cornell Univ. Press. ISBN 978-0801445019. Spreadsheet available at http://www.birds.cornell.edu/clementschecklist/downloadable-clements-checklist
Del Hoyo, J, A Elliot, and J Sargatal, eds. 1997. Handbook of the Birds of the World. Volume 4: Sandgrouse to Cuckoos. Barcelona: Lynx Edicions. ISBN 978-8487334221
Recommended Citation
External Links