Myrmecocichla nigra
Identification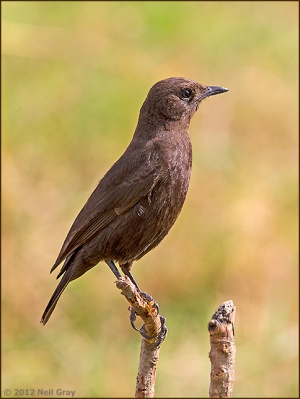 16–18 cm (6¼-7 in)
A stocky, short-tailed dark chat of the Mara/Serengeti grassland where it replaces the similar and more widespread Northern Anteater Chat.
The male is glossy black with a white patch at the bend of the wing (sometimes concealed on perched birds).
The female and juvenile are sooty-brown.
Distribution
Africa: In a square with Nigeria, Sudan, Zambia, and Angola at the corners.
Taxonomy
This is a monotypic species[1].
Habitat
Areas of short grass with termite mounds; sometimes with scattered bushes. Commonly seen along roadsides.
Behaviour
Diet
Their main diet consists of seeds and berries, with the addition of some insects such as caterpillars, termites, ants and grasshoppers. The feed on the ground.
References
Clements, J. F., T. S. Schulenberg, M. J. Iliff, D. Roberson, T. A. Fredericks, B. L. Sullivan, and C. L. Wood. 2018. The eBird/Clements checklist of birds of the world: v2018. Downloaded from http://www.birds.cornell.edu/clementschecklist/download/
Handbook of the Birds of the World Alive (retrieved Sept 2018)
Recommended Citation
External Links