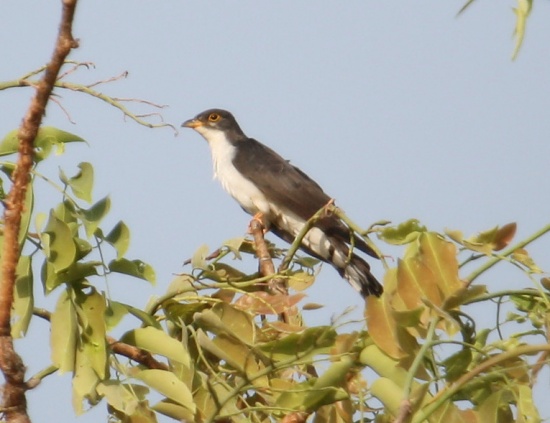 Pachycoccyx audeberti
Identification
36cm.
Grey above (brownish in worn plumage)
White lores
Narrow yellow eye-ring
Blackish wings
Tail barred brown and black
White underparts
Blackish bill, sometimes with yellow-green lower mandible or even all yellow
brazzae is smaller, blacker above and lacks the white on lores
Sexes similar. Juveniles are dark brown above with broad white spots on back and wing, their face is black and white.
Distribution
Patchily distributed in Africa south of th Sahara.
Uncommon to rare in its range.
Taxonomy
Three subspecies recognized:
Habitat
Woodlands, lowlands, and riverine forests. A characteristic bird or rich miombo woodland.
Behaviour
Diet
Feeds on insects, mainly hairy caterpillars.
Breeding
A brood parasitic; hosts are Helmetshrikes (Prionops), mainly Red-billed Helmetshrike. Hosts in Madagascar are unknown, but Chabert Vanga is suspected.
Breeding season from September to March in Zimbabwe. Incubation 13 days, nestlings evict host eggs and chicks. Fledges in 28 days.
Movements
A sedentary species with some local seasonal movements.
References
Clements, J. F., T. S. Schulenberg, M. J. Iliff, B.L. Sullivan, C. L. Wood, and D. Roberson. 2012. The eBird/Clements Checklist of Birds of the World. 6th ed., with updates to October 2012. Ithaca: Cornell Univ. Press. ISBN 978-0801445019. Spreadsheet available at http://www.birds.cornell.edu/clementschecklist/downloadable-clements-checklist
Del Hoyo, J, A Elliot, and J Sargatal, eds. 1997. Handbook of the Birds of the World. Volume 4: Sandgrouse to Cuckoos. Barcelona: Lynx Edicions. ISBN 978-8487334221
Recommended Citation
External Links