Laniarius major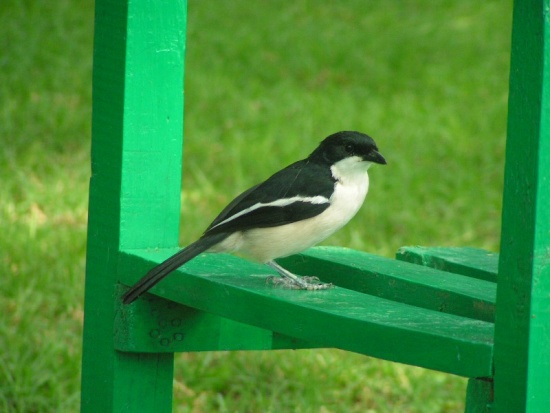 Identification
23 to 25 cm

Glossy blue-black upperparts and tail
White spots on the rump
White underparts with buffy or pink tinge on the breast and flanks
Black bill
Dark reddish-brown eyes

The wings have white markings that vary, depending on subspecies
There is an all-black morph in a small area of coastal Kenya

Juveniles: similar but duller
Grey-brown bill
Upperparts mottled by yellowish-ochre to tawny feather tips
Dusky-barred flanks
Distribution
Sub-Saharan Africa, as far south as 25ºS.
Taxonomy
There are four subspecies:[1]
Formerly considered conspecific with Ethiopian Boubou under the scientific name Laniarius aethiopicus .
Molecular sequence data indicate that Somali Boubou and Zanzibar Boubou are separate species.3 Furthermore Bulo Burti Boubou has been shown to be synonymous with Somali Boubou.
Habitat
Forest and forest-edge, savanna woodland. In the drier parts of its range, the only suitable habitat is riparian forest. Also found in gardens and thickets.
Behaviour
Diet
The diet includes large insects, arthropods, small mammals, reptiles, and amphibians. It robs nests for the eggs and occasionally eats snails and fruit. They hold large prey down with the foot whilst eating. Like other bush-shrikes, it impales prey on thorns to eat later.
Breeding
Both sexes build the cup shaped nest of twigs, tendrils, and small roots held together with spider web, but the female does more of the work. The clutch consists of 2-3 bluish to buffy green eggs with brown and lilac spots. They are incubated by both adults for about 15 days. Nestlings fledge after a similar period. Both sexes feed the young.
References
Clements, J. F., T. S. Schulenberg, M. J. Iliff, D. Roberson, T. A. Fredericks, B. L. Sullivan, and C. L. Wood. 2017. The eBird/Clements checklist of birds of the world: v2017, with updates to August 2017. Downloaded from http://www.birds.cornell.edu/clementschecklist/download/
Gill, F and D Donsker (Eds). 2014. IOC World Bird Names (version 4.3). Available at http://www.worldbirdnames.org/.
Nguembock B, Fjeldså J, Couloux A & Pasquet E. 2008. Phylogeny of Laniarius: molecular data reveal L. liberatus synonymous with L. erlangeri and "plumage coloration" as unreliable morphological characters for defining species and species groups. Molecular Phylogenetics and Evolution 48, 396-407.
Wikipedia
BF Member observations
Recommended Citation
External Links