Baeolophus bicolor
Identification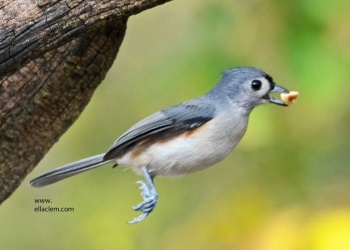 11·5–14 cm (4½-5½ in)
Grey upperparts
White face
Grey crest
Pale underparts
Rusty sides
White lores
Black forehead
Distribution
Eastern North America: found from south-central Canada (Ontario) to east, central and south-eastern US.
Taxonomy
Black-crested Titmouse was recently split from this species leaving only the nominate subspecies. Not all authorities agree with this split.
This is a monotypic species[1].
Habitat
Lowland deciduous and mixed woods as well as gardens, parks and shrubland.
Behaviour
Diet
The diet consists mostly of small invertebrates, such as weevils, beetles, bugs, ants, wasps and bees.They are common at feeders.
Breeding
They are monogamous forming a life-long partnership. Breeding is in early spring. The courtship ritual includes the male offering food to the female. The female builds the nest in a tree hole, either a natural cavity or sometimes an old woodpecker nest. The nest is lined with soft materials, sometimes plucking hair from a live animal such as a dog. There are usually 4-8 white eggs with brown speckles.
Vocalisation
Song: a high whistled Peter, Peter
Calls: several imitations of Black-capped Chickadee
Also, a high, weezy tzeer see
References
Clements, J. F., T. S. Schulenberg, M. J. Iliff, D. Roberson, T. A. Fredericks, B. L. Sullivan, and C. L. Wood. 2017. The eBird/Clements checklist of birds of the world: v2017, with updates to August 2017. Downloaded from http://www.birds.cornell.edu/clementschecklist/download/
Handbook of the Birds of the World Alive (retrieved Oct 2017)
BF Member observations
Recommended Citation
External Links
If someone uploads an image to the gallery of a Black-crested Titmouse, but uses the older taxonomy, that image is going to show up in the gallery search below.