Melanitta deglandi
Identification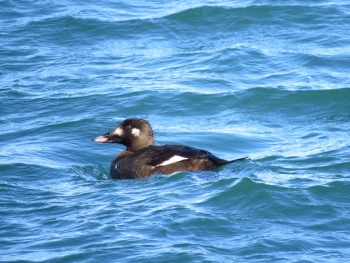 Length 51-58cm (20-22¾ in), weight 1200-1800 g
Male
Black overall plumage
White 'tick' just below and behind the eye
Long yellow bill
Thick neck
Pointed tail

Female
Dusky brown upperparts
Scaly-looking brownish-grey underparts
Two pale spots in the head, one on the auriculars, one between eye and bill

Juvenile a paler version of female
Notes on distinguishing males of White-winged Scoter, Velvet Scoter, and Stejneger's Scoter
Velvet Scoter (M. fusca): the least knob on the bill, and the least white around and behind the eye; almost no white above the eye. The coloured section of the bill is yellow and relatively long, and the distance from the base of that to the eye is short, producing the impression that the eye is positioned relatively far forward on the head. The crown looks highest above the eye.
White-winged Scoter (M. deglandi): clear knob at the base of the bill, with the yellow-orange part relatively short, so that the eye looks set further back on head than Velvet Scoter. The white around the eye is shaped as a checkmark, pointed up at the rear end. The coloured part of the bill is orange with the top parts looking yellow. The crown is highest in front of the eye. When seen well, flanks will be brown in contrast to black back and breast.
Stejneger's Scoter (M. stejnegeri): Head shape closer to Common Eider in shape, with a long, sloping forehead. White around eye similar to or longer than White-winged Scoter. It has a clear knob - almost like a small Rhinoceros horn - on the bill, further forward than M. deglandi, and the coloured parts are mostly red with yellow "lipstick" below. Flanks are black
Females are much harder to distinguish, only determinable at the closest range; Velvet Scoter has a slightly concave forehead with no basal swelling on the bill, Stejneger's Scoter has a slightly swollen bill base, and White-winged Scoter a marginally more swollen bill base.
Flight
In flight, it shows a white patch on the rear of the wing.
Distribution
Northern North America; winters to coastal southern USA
Taxonomy
This is a monotypic species[1]. Formerly considered conspecific with Velvet Scoter from Northern Eurasia and Stejneger's Scoter from East Asia.
Habitat
Breeds around fresh water bodies near boreal forests and arctic tundra; sometimes far from the coast. Outside of the breeding season, they are to be found in coastal waters, often near shellfish beds
Behaviour
Action
Slower and more powerful than Common Scoter.
Diet
Their diet includes shellfish, crabs, sea urchins, fish, insect larvae and plants.
Breeding
They build a lined nest on the ground near lakes or rivers, in woodland or tundra. The clutch consists of 7-9 eggs.
Vocalisation
Usually silent
References
Clements, J. F., T. S. Schulenberg, M. J. Iliff, S. M. Billerman, T. A. Fredericks, B. L. Sullivan, and C. L. Wood. 2019. The eBird/Clements Checklist of Birds of the World: v2019. Downloaded from http://www.birds.cornell.edu/clementschecklist/download/
Gill F, D Donsker & P Rasmussen (Eds). 2020. IOC World Bird List (v10.1). doi : 10.14344/IOC.ML.10.1. Available at http://www.worldbirdnames.org/
DUDLEY et al. 2006. The British List: A Checklist of Birds of Britain (7th edition). Ibis 148:526–563 with online updates to 2009
del Hoyo, J., Collar, N. & Kirwan, G.M. (2020). White-winged Scoter (Melanitta deglandi). In: del Hoyo, J., Elliott, A., Sargatal, J., Christie, D.A. & de Juana, E. (eds.). Handbook of the Birds of the World Alive. Lynx Edicions, Barcelona. (retrieved from https://www.hbw.com/node/467114 on 8 April 2020).
R Strack 2010. Fløjlsænder. Fugle i Felten 1: 6-7, January 2010 (in Danish) .
Grant, P.J., K. Mullarney, L. Svensson, D. Zetterstrom (1999) Collins Bird Guide: The Most Complete Field Guide to the Birds of Britain and Europe. Harpercollins Pub Ltd ISBN 0 00 219728 6
Peterson, RT, G Mountfort and PAD Hollom. 1993. Collins Field Guide – Birds of Britain and Europe, 5th Revised edition. London: HarperCollins Publishers. ISBN 978-0002199001
Brown, P. W. and L. H. Fredrickson (2020). White-winged Scoter (Melanitta deglandi), version 1.0. In Birds of the World (P. G. Rodewald, Editor). Cornell Lab of Ornithology, Ithaca, NY, USA. https://doi.org/10.2173/bow.whwsco2.01
Recommended Citation
External Links