Alternative name: Yellow-throated Green Cuckoo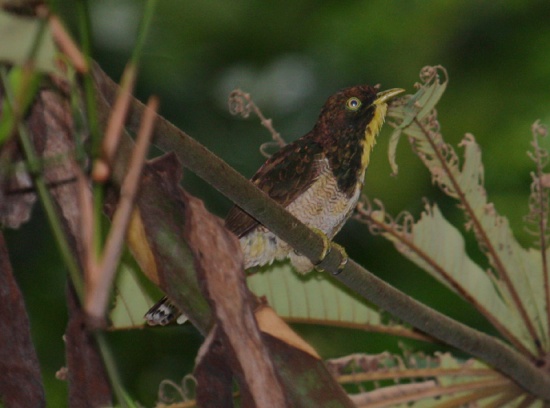 Chrysococcyx flavigularis
Identification
19cm (7½ in).
Male
Coppery-brown upperparts and sides of neck
Coppery-green wing coverts
Tail with white outer rectrices and subterminal black bars
Bright yellow throat and centre of breast
Dark green sides of throat and breast
Rest of underparts barred buff and greenish brown
Yellowish green eye-ring
Greenish yellow bill
Female
Lacks green and yellow on throat
Finely rufous and dark brown barred face and underparts
Black bill
Juveniles barred greenish and buff above.
Distribution
Africa from Sierra Leone and Ghana east to Nigeria, southern Cameroon and Gabon to DR Congo, South Sudan and southwest Uganda.
Rare in western Africa, locally more common in central Africa.
Taxonomy
This is a monotypic species.
The described subspecies parkesi from Cameroon, DR Congo and Uganda is usually not recognized.
Habitat
Found in the canopy of primary forest, gallery forest and old secondary forest.
Occurs in the lowlands.
Behaviour
Diet
Feeds on insects, mainly caterpillars. Takes also some fruit
Breeding
Presumably a brood parasite, hosts unknown.
Movements
A resident species.
Vocalisation
A clear, flute-like whistle of nine to twelve notes, all on same pitch. The first note is the longest, accelerating and then fading away, the series lasting around 3 seconds. Sings all year.
References
Clements, J. F., T. S. Schulenberg, M. J. Iliff, D. Roberson, T. A. Fredericks, B. L. Sullivan, and C. L. Wood. 2016. The eBird/Clements checklist of birds of the world: v2016, with updates to August 2016. Downloaded from http://www.birds.cornell.edu/clementschecklist/download/
Del Hoyo, J, A Elliot, and J Sargatal, eds. 1997. Handbook of the Birds of the World. Volume 4: Sandgrouse to Cuckoos. Barcelona: Lynx Edicions. ISBN 978-8487334221
Recommended Citation
External Links