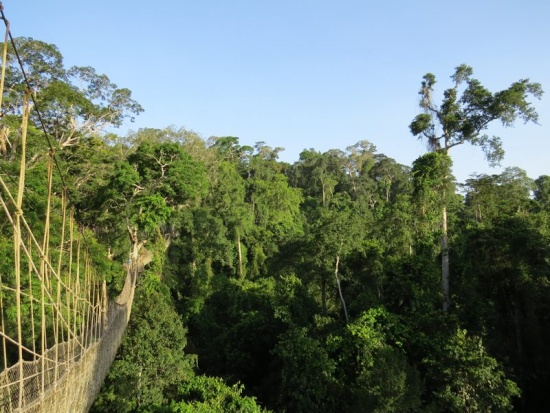 Overview
Kakum National Park is located in southern Ghana and covers an area of 375 square kilometers o tropical evergreen forest. After beeing established as a reserve in 1931 it was declared a national park in 1992. It's easy to reach from Accra and Cape Coast. A canopy walkway offers good views of the middle and upper canopy.
More than 300 species have been recorded in or around the park.
Birds
Notable Species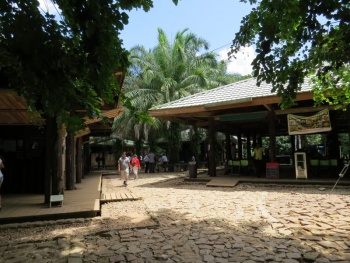 Many upper Guinean endemics can be seen in the park and nine species of hornbill occur. White-breasted Guineafowl occurs but is very difficult to see. Kakum is probably the easiest place in Ghana to see (or at least hear) Congo Serpent Eagle.
Check-list
Birds you can see here include:
Cattle Egret, Palm-nut Vulture, African Harrier Hawk, Yellow-billed Kite, African Cuckoo-Hawk, European Honey Buzzard, Red-necked Buzzard, Long-tailed Hawk, Congo Serpent Eagle, Grey Kestrel, Nkulengu Rail, White-spotted Flufftail, African Jacana, Tambourine Dove, Blue-headed Wood Dove, African Green Pigeon, Red-eyed Dove, Laughing Dove, Red-fronted Parrot, Senegal Parrot, Black Cuckoo, Dideric Cuckoo, Klaas's Cuckoo, African Emerald Cuckoo, Blue Malkoha, Senegal Coucal, Blue-headed Coucal, Barn Owl, Fraser's Eagle Owl, Akun Eagle Owl, African Wood Owl, Brown Nightjar, Mottled Spinetail, Sabine's Spinetail, Black Spinetail, Cassin's Spinetail, White-rumped Swift, Little Swift, Common Swift, African Palm Swift, African Dwarf Kingfisher, African Pygmy Kingfisher, Chocolate-backed Kingfisher, Blue-breasted Kingfisher, Woodland Kingfisher, Black Bee-eater, White-throated Bee-eater, Blue-throated Roller, Red-billed Dwarf Hornbill, African Pied Hornbill, Piping Hornbill, Brown-cheeked Hornbill, Black-casqued Hornbill, Yellow-casqued Hornbill, Yellow-throated Tinkerbird, Red-rumped Tinkerbird, Speckled Tinkerbird, Hairy-breasted Barbet, Bristle-nosed Barbet, Naked-faced Barbet, Yellow-billed Barbet, Cassin's Honeyguide, African Piculet, Buff-spotted Woodpecker, Brown-eared Woodpecker, Fire-bellied Woodpecker, Little Green Woodpecker, Melancholy Woodpecker, Rufous-sided Broadbill, Fanti Saw-wing, Lesser Striped Swallow, Barn Swallow, African Pied Wagtail, Blue Cuckooshrike, Slender-billed Greenbul, Little Greenbul, Little Grey Greenbul, Honeyguide Greenbul, Golden Greenbul, Ansorge's Greenbul, Plain Greenbul, Swamp Palm Bulbul, Common Bulbul, Forest Robin, White-tailed Alethe, Blue-shouldered Robin Chat, Rufous-crowned Eremomela, Lemon-bellied Crombec, Green Crombec, Green Hylia, Whistling Cisticola, Red-faced Cisticola, Tawny-flanked Prinia, Grey Longbill, Violet-backed Hyliota, Black-capped Apalis, Sharpe's Apalis, Yellow-browed Camaroptera, Olive-green Camaroptera, Fraser's Forest Flycatcher, Ussher's Flycatcher, Ashy Flycatcher, Little Grey Flycatcher, Grey-throated Flycatcher, Chestnut-capped Flycatcher, Dusky-blue Flycatcher, Red-bellied Paradise Flycatcher, Black-and-white Flycatcher, Tit-hylia, Forest Penduline Tit, West African Batis, Little Green Sunbird, Buff-throated Sunbird, Olive-bellied Sunbird, Collared Sunbird, Tiny Sunbird, Superb Sunbird, Johanna's Sunbird, African Yellow White-eye, Northern Fiscal, Brown-crowned Tchagra, Lowland Sooty Boubou, Sabine's Puffback, Red-billed Helmetshrike, Black-winged Oriole, Fanti Drongo, Pied Crow, Splendid Glossy Starling, Forest Chestnut-winged Starling, Copper-tailed Glossy Starling, Northern Grey-headed Sparrow, Yellow-mantled Weaver, Black-necked Weaver, Village Weaver, Vieillot's Black Weaver, Maxwell's Black Weaver, Preuss's Weaver, Red-headed Malimbe, Crested Malimbe, Blue-billed Malimbe, Red-vented Malimbe, Red-headed Quelea, Black-winged Bishop, Chestnut-breasted Nigrita, Grey-headed Nigrita, White-breasted Nigrita, Bar-breasted Firefinch, Orange-cheeked Waxbill, Black-and-white Mannikin, Magpie Mannikin, Bronze Mannikin, Pin-tailed Whydah
Other Wildlife
Several species of primates, squirrels and forest antilopes occur but are difficult to see. There is also a healthy population of African Forest Elephant but they tend to stay in the remote parts of the park.
Site Information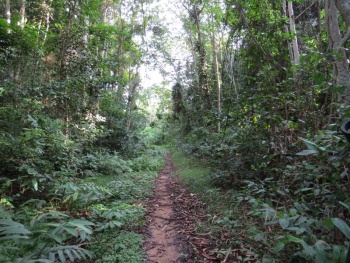 If you are travelling individually check with the park administration the need of permits for the various parts of the park. Birding in the farmbush around the park is allowed.
History and Use
The area was declared a reserve in 1931. Logging however continued until 1989 and most of the park now consists of partially logged forest or secondary forest. In one part of the forest, the Assin Attandanso Forest Reserve, logging is still allowed for the local communities. Illegal poaching still goes on. Kakum National Park is a major tourist attraction today. The canopy walkway is also popular and a visit should be avoided at weekends.
Areas of Interest
An excellent place to see Congo Serpent Eagle and Hornbills. Well signed from the Cape Coast - Twifo Praso road. Coming from Cape Coast turn right (5°21'00.00''N/1°23'04.73''W) to the information centre. There you can book a tour on the canopy walkway. It's worth to spend the morning or the evening on the walkway. Brown Nightjar can be seen in the evening. Akun Eagle Owl was seen at the information centre in 2014.
Outside the park but still in reach with a car. At the bridge over the Pra-River Rock Pratincole, White-headed Lapwing and White-throated Blue Swallow can be seen.
Ebekawopa (Abrafo) Forest Reserve - Pra Sushien
Another track of forest, excellent for Hornbills and Cuckooshrikes. Reached via a rough track from the mainroad. Turn left at the main road at an abandonend hotel site (approximately 5°19'35.29''N/1°22'43.25''W). The farmbush from the mainroad towards the forest is also worth a morning. Listen for Sooty Boubou here.
This track gives access to the northern part of the Kakum National Park. Drive to Twifo Praso and turn right on the road to Foso. After the village of Aworoso turn right (approximately 5°37'49.44''N/1°23'50.56''W). The road goes south and finally enters the forest. African Piculet can be found here.
Another track to the forest edge, a good place for Long-tailed Hawk. Turn right from the mainroad from Cape Coast (approximately 5°23'51.67''N/1°27'22.46''W)
Access and Facilities
Access to the park is mainly from the Cape Coast - Twifo Praso road. It's possible to reach the park by public transport, however a taxi is more convenient.
Accomodation is mainly found between Cape Coast and the park. There are simple and cheap places to stay or more luxurious lodges. None of them is in the park itself, most are around 30 minutes by car from the canopy walkway.
Contact Details
Kakum National Park
Cape Coast Office
Republic of Ghana
Office: 00233 [0] 33-21-30265
On Site: 00233 [0] 33-21-94650-1
External Links