Camera Land / Supporting Vendor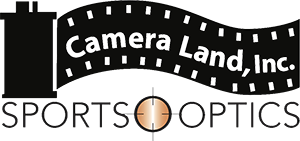 Camera Land's Labor Day Sale - Extended Now through Monday September 12th.
You didn't miss out
We had such a great response to this sale that we reached out to our vendors and got permission from a few to extend this great sale. Whatever you want, if we have it we will hook you up. If we are out of it we will get it for you. We've been adding so much to our web site that if you haven't looked recently you really should.
We are now a stocking
Revic
dealer and just received another nice shipment.
We just got in a HUGE delivery from
GPO
with many discounted Open Box, Demo & Closeout options.
Our in stock inventory of
Leupold,
Steiner,
Konus,
Nightforce & Swarovski
has never been stronger.
We've lowered the prices on our web site on all offerings from
Athlon, Konus & Meopta, also, add Steiner & Burris
to the cart for extra special savings.
Also heavily discounted are:
Peak Design
Slik Tripod and Heads
The reductions also were applied in our
Clearance Section,
Specials Section
and even in the
Bundle Section

A few items worth pointing out:

15% off
all
Slik
Tripods with
Extra Savings on the Slik Pro 824CF Carbon Fiber Tripod + Slik SVH-501 Video Head reduced from $449.90 to only $199.99

Your Choice : Athlon Ares 15-45x65 UHD - Straight Angle Spotting Scope or the Angled for only $552.49
The Ares 15-45 family of spotting scopes were designed with advanced optical quality and ease of use in mind. Designed with bright, razor-sharp imagery and a rugged, weatherproof design, the Ares is ready for any condition. The interchangeable eyepiece allows you to swap the standard variable power eyepiece with a fixed 24 power eyepiece (sold separately) with a MIL ranging reticle in it for your long range shooting/tactical application. They have Extra-Low Dispersion glass lenses for color resolution and contrast, our AFMC (advance fully multi-coatings), and feature BaK4 prisms with the new ESP Dielectric Coating. They bring clarity and brightness within the reach of most enthusiasts. The tough full metal chassis is fog proof and waterproof and filled with Argon gas to prevent internal fogging and better thermal stability. The lenses are then treated externally with our XPL coating to withstand dirt, oil, and grime of constant use. Choose from three different models – each distinctly different in size so you have a scope tailor-made for your specific activity.
Your choice of the Kowa TSN-883 or 884 Spotting scope with the Kowa TE11-WZ II 25-60x Wide Zoom Eyepiece for only $2,699.99
The pure fluorite crystal used in these models is the optimum optical material for reducing chromatic aberration, providing the ultimate viewing experience. (TSN-883/884 only.)
The extraordinary light gathering capability supports observation during dusk and during dawn.
All spotting scopes are waterproof to JIS protection class 7 and filled with dry nitrogen gas to prevent the lens from fogging.
JIS 7 = Japanese Industrial Standard / class 7 = Protected against the effects of temporary immersion in water.
Dual focus mechanism (Quick and fine focusing)
The well established Kowa focus system has progressed to a new dual focus system. The quick focus, with a large and easy to turn knob, will focus from infinity to five meters in two revolutions.
The fine focus, with smooth movements and pinpoint accuracy, is extremely useful at high magnifications and for digiscoping systems.
Meopta MeoStar B1 Plus 8x32 Binocular reduced to only $999.99
The MeoStar B1 Plus Binocular represents the pinnacle of premium European optics from Meopta. Built on the legendary B1/B1.1 chassis with locking diopter, the B1 Plus features enhanced optical tolerances to provide even sharper images and greater optical performance. Redesigned exterior rubber armor gives the user a more solid grip, contoured to better fit in the hand for comfortable use in the field.
Steiner HX 15x56 Binocular - ADD TO CART FOR SPECIAL LOW PRICE
With the innovative HX Series, you've got a new arsenal of optics to match your style and quarry. The high-precision roof prism design, advanced lens coatings, ergonomic rubber-armored polycarb frames, and four specific-performance models let you focus on your individual adventure like never before.
We want to hook you up so call us, 516-217-1000, and let's discuss which Camera, Riflescope, Binocular, Spotting Scope, Rangefinder, Tripod or whatever it is you're looking for so you get exactly the right product as well as getting a fantastic deal
We've got MANY other deals going on so please just give us a call, 516-217-1000, to discuss the Optic, Camera or Tripod you're looking for and we will hook you up.
Check out our Just Arrived Section, New Daily Flash Sale as well as our Sale Flyer
Take a look at our
Recent Newsletter

Save big $$$ - Open Box, Demo, Clearance, Bundles & Specials
We appreciate all the orders and support. Please stay well and safe.
If there is anything you're looking for please give us a call at 516-217-1000. It is always our pleasure to speak with you.
Always give a call to discuss options and what would be best for your needs
Have a great day & please follow us on Instagram at gr8fuldoug1
Thank you for your continued support.
If there is anything else that we can assist you with please let us know.
Camera Land
720 Old Bethpage Road
Old Bethpage, NY 11804
516-217-1000
Please visit our web site @
www.cameralandny.com