Following the whale watching trip I've added a few birds during walks with the dogs. Most prominent of these was a flock of
Galahs
foraging and a contrastingly green lawn at Rawson Park. A couple of days later I saw them a bit closer to home, feeding on the spiky fruit of a tree in a quiet street, but still in Mosman rather than Cremorne. Then yesterday half a dozen were on the wire on Spofforth Road, which marks the boundary between the districts of Mosman and Cremorne. They may have been on the wrong side of the road, but that's close enough for me to include them on the patch list. Here's a pcx and a video of these lovely parrots.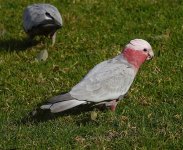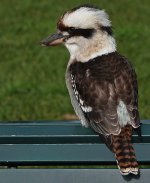 Here's a couple more from the walk on which I first saw the Galahs that gives a sense of the habitat of much of Sydney's shoreline - weathered sandstone with mature trees and other plants that are specialists of thin soils. And a nicely lit back-on shot of a very approachable
Laughing Kookaburra
, showing its russet tail and power blue rump.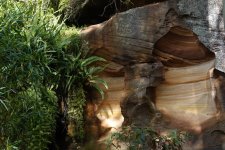 Cheers
Mike
Last edited: