I found the most lovely viewpoint today, and it proved a great opportunity to try some long distance birding with the NL Pure 12x42s that I seem to be in the habit of taking everywhere with me these days.
There's a hill just to the north of Seaford in Sussex with the somewhat prosaic (but pretty accurate) name 'High and Over', providing wonderful views of the valleys and hills around Cuckmere Haven. The 12x is the perfect tool for this kind of job, I think, and seems ideally suited to enhancing panoramic views, in addition to being a very efficient high power close range birding bino. There were plenty of lagoon-like pools and flooded fields in view after the recent rains, which attracted dozens of big water birds. Earlier in the afternoon I was down by the coast, getting a closer look at the egrets, herons, geese, swans etc. from the riverbank, but there was plenty to see on High and Over. Whenever I wanted to look a bit closer at something, I had my trusty Vortex Razor.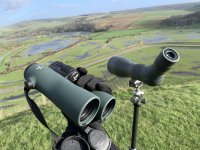 The images below were taken (1) through the NLs and (2) through the Razor, and you can see how the FOV on the NLs is so wide that it makes cropping on the iPhone almost unnecessary! The dark patches around the lower edges are due to my poor phone holding skills. I tried to get the image as focussed as possible, but it might be a little off. Without the camera, at least, the image is crystal clear, very sharp and as bright as anyone could want. Perhaps there is a little of that two-dimensional 'flattened' quality some people have been noting recently, but I can't say that it bothered me today. The infamous glare issue doesn't seem to worry me either, but I'm still exploring their capabilities, so, who knows how I'll feel later? When testing other binos, I'm usually turned-off by narrow FOV, muddy edge clarity and dark images, so the NL glass ticks all the major boxes for me.
At 27x the Razor is very bright and crisp, too. When zoomed in to 60x the Razor provides a wonderfully wide image, rivalling the NLs in subjective size, although today I was noticing quite a bit of brightness falloff at higher magnification; moving from 27x to 60x and back again, it was a bit like a cloud had passed over the sky. If image 3 loads correctly as a video, it should show a super-zoomed image of some geese taken through the Razor, boosted by the iPhone camera zoom. Looking at this again, the video seems brighter than the view provided through the scope itself, surprisingly. CA never bothered me much until I started using higher quality glass, and now I see it here and there in the Razor. I think its most apparent in the green and purple tints around the white plumage of birds. But it is not too bad. The NLs show far less CA, if any, to my eyes.
1. NL (12x)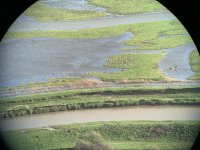 2. Razor (27x)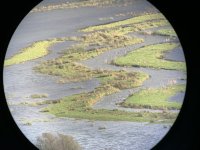 3. Razor (something over 60x, maybe 150x; not sure)
View attachment IMG-0240.mov
High and Over is a beautiful place, and if anyone is planning a trip to Sussex, and the weather is nice, I'd suggest that they make a little detour to enjoy the view. Bring a 12x or above to get the most out of it!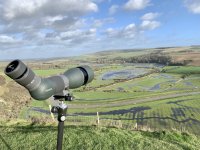 Thanks for reading! This post will basically help me remember a lovely day