Moderator
Staff member
Supporter
Introduction
Well it's a few months since I reviewed SF 8x32 so it is about time I had a look at the 10x32, and one has been obtained on loan for a few weeks. SF 32 has been around for a while now, but I sense that it is not widely understood how much of a development from SF 42 that it represents.
In my interview with Thomas Steinich of Zeiss (
https://www.birdforum.net/threads/interview-with-zeiss-senior-optical-scientist.394994/
) you can find hints at how developing a 32mm unit is not as simple as making the lenses a little smaller in diameter. If you look at the images of the internals of SF 32 on the Zeiss website, and of sectioned SF 42s on the internet, you would be struck by the following differences. SF 42 has an eyepiece consisting of 3 doublets and a singlet, whereas SF 32 appears to have 5 doublets and 1 singlet. At the objective, SF 42 has a fixed doublet and a moving singlet focusing lens, but SF 32 has a fixed singlet objective and a doublet focuser. In other words SF 32 is significantly different from the 42. The 10x32 has a field of view 8.3% wider than the 10x42 (yielding an area of view 17.4% bigger) and eye relief has increased from 18mm to 19mm. It is not easy to pull off both of these at the same time, so I guess that explains some of the complexity of the eyepiece.
The 10x32 format is the least popular of the 32s and 42s, and usually this is explained by reference to the small exit pupil of 3.2mm. Certainly, for years I didn't bother trying out 10x32s but when I reviewed a MeoStar and an Opticron Traveller I was surprised at how friendly and usable I found them. I wear spectacles, and without the help of eye-sockets to guide the eyecups into alignment with my eyes, you might have thought I would find this difficult, due to the eyecups failing to arrive on my spectacles at precisely the right position, and then skidding on the glass even further out of position, but this never happened. I am not saying that everyone will find a 10x32 so easy to live with, but consider this: Zeiss's Victory Pocket 8x25 has been receiving a lot of love on Birdforum over the past two years or so (the thread about the Pocket has amassed over 95,000 visits!) and that has an exit pupil of only 3.125mm.
SF and the Competition, Specifications and Prices
Looking at the competition, SF 10x32 weighs pretty much the same as Swarovski's EL (590g vs 595g) and is 12mm or about ½" longer. It has a field of view of 130m at 1km or 390ft at 1,000yds compared with the Swarovski's 120m and 360ft. Do the maths, and the SF's area of view is over 17% larger, while they both have a close focus a little under 2.0m. Price-wise it is fairly close in the USA with the SF offered around $2300 and the EL at $2100 whereas in the UK and Euro zone the EL is significantly cheaper. Here the SF is priced around £1900 vs £1420 and €2150 vs €1730.
The lower price makes the EL seem a more attractive purchase than the SF at first sight but in bino-world it is not quite as simple as that. The EL has been criticised by some due to a problem with glare but the remarks about this vary from folks who just don't see it, to those who damn the EL as unusable. In addition some who otherwise admire the EL's view say that it lacks contrast. The Zeiss has been criticised for its eyecups and then there are reports of Zeiss binos having a green colour cast, although in the case of SF32, experts Holger Merlitz and Gijs van Ginkel say that it has none. As usual, the only way to determine if the SFs or ELs suit you is to try them out, and this is what I will report on next, so let's pick up the SFs and see what makes them tick.
Just now I noticed that the SF's field of view of is very similar to that of Swaro's NL 10x42, the SF's 130m at 1km playing against the NL's 133m. Of course the SF is not a 42, but if you only do your birding in normal daylight, your own pupils will be smaller than the SF's exit pupil of a 3.2mm. Weighing 590g the SF is way below the NL's 850g (that's 9.17 ozs lighter) and it's usefully cheaper too, the difference in the UK being around £500. Anyway if you are attracted by a 10x with a super-wide field of view, it might be worthwhile auditioning the SF as well as the NL,
SF10x32 in the Hand
Now, about the eyecups. It is true that if you screw the eyecups up and down with the same ferocity that you use to open a bottle of cough medicine with one of those child-proof caps, you will think that the eyecup positions do not feel robust and reliable. This was my first impression too, when encountering them on the SF 8x32, and I am quite used to opening those child-proof caps! However having chosen an intermediate setting and used it for several weeks last November I found it absolutely reliable, despite the rainguard being removed and replaced many times on some days, as you might expect of weather in November. Even crawling along the ground to stalk Otters did not shift the eyecup setting. Our good friend Chuck (Chill 6x6) has even fine-tuned his eyecups position by setting them on top of one of the official 'click-stops' rather than actually in it, and has found this reliable. I have tried this and it worked for me too, so I can confidently say, don't be too hard on the eyecups, they work just fine. Having said that I could wish that Zeiss had equipped them with 5 positions instead of 4 but I am nit-picking now.
Talking of nit-picking. I don't use objective covers when birding but as you may notice from the photos I used one during the photo session due to the surfaces on which I had to rest the binos. The cover itself snaps into place to shield each objective lens and seems very secure, but as an additional security Zeiss has supplied a tether to be attached to one of the strap lugs. This tether incorporates a snap connector so the cover can be detached when required but I guess that it is envisaged that the cover will simply be pulled off the objectives and be allowed to dangle from the binos. Now, if I use a rainguard that only attaches to the strap at one side, no matter what I do, the thing just twists the strap round and round so it can't be slid up or down the strap until the twist is sorted out. How this happens is more mysterious than the role of dark matter and dark energy in the universe. What would happen with a freely dangling objective cover, especially if I was carrying a DSLR on a neck-strap as well, is too annoying to contemplate. So this objective cover is not for me but appears to do the job well.
The hand grip offered by SF32 fits me like a favourite glove, see the photo. Sliding my middle/ring/little fingers around the tube under the middle bridge, my first finger arrives automatically on the focus wheel. By the way, measuring my hands shows they are considered medium sized for men, with my fingers just a touch longer than average.
The focus action is just exquisite, being smooth and back-lash / free-play free. The speed of focus is about the same as SF42 so is nicely judged for birding and general nature observation.
Accessories
The clam-shell cases supplied with the SF 42s were not universally loved so the Cordura case that comes with SF 32 will be appreciated by many. I like it but if one thing is true in bino-world it is that for everyone who wants the bino case to be as small as possible there is someone else who wants it big enough to take not only the binos but a notebook, field guide and probably a packed lunch and bottle of Scotch too.The neck strap is tailored so it fits around the base of your neck, lying on your shoulders rather than sticking up and hanging from the back of your neck. I find this very comfortable and I also like the rainguard because it can be fitted to the neck strap on the right or on the left or indeed (as I have it) on both sides.
The View & Sightings
Taking the SFs outside to check for chromatic aberration using the usual black pole and the black overhead cables as usual, against the sky, I couldn't find any CA at all, whether in the centre of the field of view or at the edge. Checking the sweet spot against stone walls it is big, and sharp out to 90% of the fov and even the edges are quite sharp enough for your peripheral vision to recognise anything happening out there. Checking for glare I panned the SFs much closer to the sun than I would normally dare in normal viewing and noted a thin golden crescent at the bottom of the fov. It didn't cloud the image and was so thin it didn't obscure anything. However In my experience the most rigorous test is that of a low sun reflecting off water, such as we regularly experience in Scotland's Hebrides and Western Isles. Sadly we do not have any bodies of water such as the Atlantic within Covid-restriction's walking distance from our home so I was unable to perform this most rigorous of tests, but I recall SF 8x32 passed it comfortably.
Being restricted to our neighbourhood has meant being closer to the observed birds, and testing a 10x bino has given me the opportunity to see more detail than usual. I will report further sightings over the next couple of weeks in separate threads so I hope you will keep a watch for subsequent reports.
We have been so lucky to have a small flock of Siskins
Carduelis spinus
locally and they have been regularly visiting our feeders. Many years ago sketching the face patterns of visiting Coal Tits
Periparus ater
revealed that instead of what we thought were 4 individuals, there was actually at least 12, so I shouldn't have been surprised to find the Siskins are just as variable in their plumage.The black cap of the males, which look so densely black with the naked eye, turned out to be not at all dense viewed through the SFs. Tufts of black crown feathers were separated by thin lines of bright yellow or cream. These lines could look random, but on other individuals looked like a scaly pattern. On two males it appeared that the dense black was confined to the feather tips and underneath was a lush bright yellow. I need more views to confirm this but it was fascinating to discover that the uniform appearance of the black caps was totally misleading.
On the sides of the face, behind the eye is a smudgy patch down its 'cheek'. The top of this is well delineated and forms the underside of the supercilium. This feature was present in all the observed males but in some the bottom of the smudgy cheek patch curved around to almost join the black patch under the beak, whereas in most birds the patch faded out before it even reached a point below the eye. What my clumsy description means is that through the SFs I was able to see sufficient detail to realise that these males simply looked different from each other. No, this is not an earth-shakingly original discovery, but just the delightful beginning of recognising these birds as individuals instead of merely members of an engagingly attractive species.
Two of these males decided to visit our pool for refreshment and landed with their backs to me and having checked the surroundings for danger they both relaxed, drooped their wings loosely and bent forward to drink. As their wings drooped their rumps were exposed and were such an intense yellow that it was as if two spotlights had been turned on. No exaggeration.
Despite their diminutive size (they only weigh half as much as a Greenfinch
Carduelis chloris
) they are feisty little birds and when challenged by the bigger finches they do not normally give way. We have a huge admiration for these dashing little birds.
More sightings on a new thread in a few days.
Lee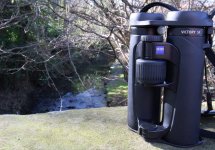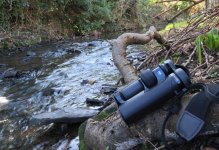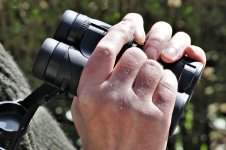 Last edited: