Moderator
Staff member
Supporter
The Western Isles (also known as the Outer Hebrides) are a long chain of islands situated roughly 45 miles / 70km west of the mainland of Scotland, but only 2hours by ferry from the neighbouring Isle of Skye. The main islands are (starting from the north) Lewis and Harris (they are combined in one island), Berneray, North Uist, Benbecula, South Uist and Barra. We stay at a rental cottage on North Uist and my observations were made during our three-week stay there and on the ferries to and from North Uist. This was our 29th stay on North Uist and our 73rd visit to the Inner and Outer Hebrides, and these are key figures that explain our familiarity with the birds there and why I do not prioritise 10x binoculars (to identify species), preferring 8x for their wider field of view, greater depth of field and steadier view in the breezes, and indeed powerfully strong winds, that often blow in from the Atlantic Ocean.
On the day following our arrival at our rental cottage, a speculative glance around the big sea loch behind our cottage revealed an Otter cruising across towards our nearby coast. It was in no hurry and did not forage along the way and just occasionally dipped below the surface before arriving at the rocky shore coloured a deep gold by the seaweeds, and clambered out of the water, shook itself in a cloud of spray and then disappeared among the boulders there.
I used my SF8x32s intensively during our visit and am spoiled for choice on which sightings to report. Notable were two sightings of Golden Eagle, the first of an adult with the SFs easily picking out the small head/beak and substantial tail that easily distinguish this species from Sea Eagle. The second sighting was of an immature that passed so low over our heads we almost ducked and whose plumage was as nondescript and untidy as the adults was in perfect order. But pride of place must go to an immature Sea Eagle that glided low over our heads only to trump this performance by returning 2 minutes later, flying just as low, and carrying a large fish.
But we don't need 'big birds' to get excited. The local Stonechats are just delightful, being so smartly dressed and so co-operative as to perch on the top of rocks or fence posts long enough to give you a proper view, but pride of place must go the 2 dozen Twite that landed on the side rails of a bridge over a sea channel and close to our car. The SFs did full justice to their streaky breast plumage and stripey crowns but above all they captured the busy nature of these birds, with some individuals constantly looking around while others were engaged in minor disputes with their neighbour, and others eyed our car with suspicion. These lively little finches were captivating!
Common Seals enjoy nothing more than hauling out of the water and adopting their 'banana pose' with lifted head and tail flippers, while luxuriating in the warm sunshine. Young common seals, like most young animals, can be very inquisitive and we vividly remember three popping their heads up out of the water to watch what we were doing on the Ardnamurchan peninsular. They watched and followed us for about half a day as we moved along the coast photographing flowers. On Uist though, we haven't had any Common Seals come so close to us but we have had a few Grey Seals pop up from time to time. These are big, powerful predators often appearing lazy and slow but which can move with astonishing speed under water.
A few years ago we spotted a Grey Heron colony on the east coast and were wondering whether it was still there. We were wondering, because we don't have the stamina these days to make the trek there to check it out, but the answer may have arrived serendipitously when a flock of 12 Grey Herons floated by and did seem to fly to that part of the coast. In Shetland, Grey Herons are called Haigrie as a name for the species but we have adopted this as a personal name for each Grey Heron we see. So we never remark 'there's a Grey Heron over there' but instead say 'Hi Haigrie'. Feel free to smile at our fanciful nature but Haigrie sounds to us like a name for a wise creature and this is how Grey Herons strike us as they stand motionless, as if in contemplation, sometimes for an hour or more.
Sitting in the car park of the Co-op at Creagorry (Troubador lives a life of high glamour you know 😊) we were treated to a fly-past of 3 Turnstones and 1 Greenshank which briefly landed on the tidal flats nearby. The SF's contrast allowed the vee of white on the Greenshank's rump to shine prominently and as the Turnstones pottered around their short beaks and portly profile made them easy to identify.
One evening, when the day's blustery wind had calmed down and the waves on the sea loch near our cottage had disappeared leaving the surface glassy and reflecting the sky above, I had just taken a wheelie-bin down to near the road for emptying the following morning, when I turned around and spotted an Otter swimming slowly along the surface of the sea loch. In calm waters like these it is easy to tell an Otter from a Seal, you just need a little experience, but when the surface of the sea is covered in a tangle of choppy waves it is not so simple. This Otter was cruising along, occasionally dipping below the surface for a few metres. When they do this, they stop using the doggy-paddle action in which they use their legs to power themselves on the surface, and instead they undulate the full length of their bodies to propel themselves. If you have ever watched athletes high diving into a swimming pool and seen them return to the surface as filmed by an underwater camera, you may well have seen them use this undulating technique. In fact this particular Otter submerged and must have used this super-fast swimming technique as it then re-surfaced a considerable distance down the loch and continued on the surface until we couldn't see it any longer.
Later in our stay, Sanderlings began arriving on the shores as autumn migration picked-up and the SFs gave me sparkling views of these delightful waders as they ran, with blurred legs, for considerable distances along the edge of the in-coming tide. This treat was equalled on one memorable occasion when we were stunned by a gathering of no less than 45 Ringed Plovers in a small area on one local shore.
Our three-weeks' visit to North Uist seemed to be over in 5 minutes and then, due to harbour works affecting ferry timetables we had to get up at 01:30 to drive the 40 miles / 64km to the south of the island to catch the only ferry returning to the mainland that day. We set sail at 05:45 and arrived at Mallaig at 09:15 to then drive for 6 hours to our overnight stay at Cairnbaan.
After such a long day we booked a second night at Cairnbaan so we could enjoy the luxury of exploring the local coast and it was here that we encountered a Carrion Crow / Hooded Crow pair that were turning over bunches of seaweed to find items to eat. Seeing them side by side was a treat, these are really smart well-dressed birds. This reminded me how many years ago, having got used to only seeing Hooded Crows in Scotland and so having erroneously associated them with 'travelling north', how surprised I was to fly into Italy and see Hooded Crows stalking around the airfield within a few miles of the Mediterranean.
Summing up, I enjoyed using the SF8x32s so much and not just because of their optical qualities, but simply because they fit in my hand as if they were made-to-measure for me, personally and it just made it a pleasure every time I picked them up.
Could anything top all these sightings?
Yes: the 3 Minke Whales seen on the voyage back to the mainland at the end of our visit!
Lee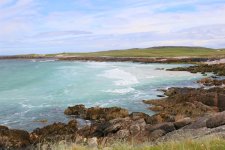 Last edited: