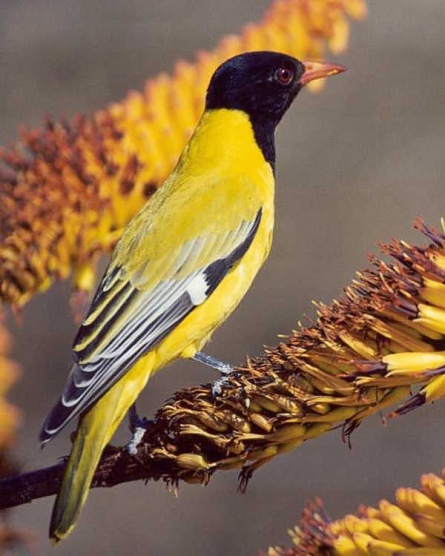 Alternative names: Eastern Black-headed Oriole; Black-headed Oriole
Oriolus larvatus
Identification
Bright yellow body, black head, olive central tail feathers, yellowish edge of its inner secondaries, flesh-coloured beak.
Similar Species
It can be distinguished from other similar species (eg the Western Black-headed Oriole or the Montane Oriole) by its olive central tail feathers and the yellowish edge of its inner secondaries.
Where it is conspecific with other black-headed Orioles it tends to be restricted to the forest edge.
Distribution
Sub-Saharan Africa:
Western Africa: Equatorial Guinea, Democratic Republic of Congo, Angola
Eastern Africa: Sudan, Ethiopia, Somalia, Kenya, Uganda, Rwanda, Burundi, Tanzania, Zambia, Mozambique, Malawi
Southern Africa: Namibia, Botswana, Zimbabwe, South Africa, KwaZulu-Natal, Lesotho, Swaziland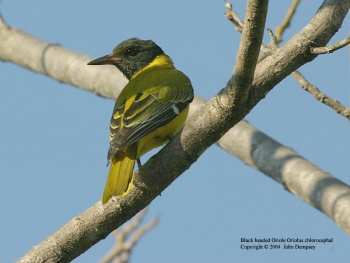 Taxonomy
Oriolus larvatus has six subspecies:1
Habitat
Inhabits Acacia woodland and other types of open woodland as well as being seen in mangroves and forest.
Behaviour
The diet includes small fruit as well as large insects. The young are fed mostly with caterpillars.
References
Clements, JF. 2008. The Clements Checklist of Birds of the World. 6th ed., with updates to December 2008. Ithaca: Cornell Univ. Press. ISBN 978-0801445019.
Avibase
Recommended Citation
External Links