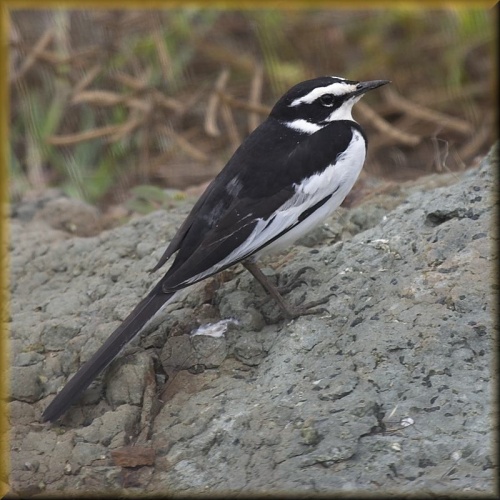 Motacilla aguimp
Identification
Similar Species
Its range overlaps with that of the White Wagtail (Motacilla alba) but it can be easily distinguished by the lack of grey in the adult plumage plus the very distinctive black mask through the eye.
Distribution
Widespread throughout Africa:
Northern Africa: found only in Egypt
Western Africa: Senegambia, Senegal, Guinea-Bissau, Guinea, Mali, Sierra Leone, Liberia, Ivory Coast, Ghana, Togo, Benin, Nigeria, Niger, Chad, Cameroon, Central African Republic, Equatorial Guinea, Gabon, Congo and Angola
Eastern Africa: Sudan, Eritrea, Ethiopia, Djibouti, Somalia, Kenya, Uganda, Rwanda, Burundi, Tanzania, Zambia, Mozambique and Malawi
Southern Africa: Namibia, Botswana, Zimbabwe, South Africa, KwaZulu-Natal, Lesotho and Swaziland
African Islands: Gulf of Guinea Islands
Taxonomy
There are two subspecies[1]
Habitat
A wagtail of towns and other human settlements. It is generally found associated with water, seasonally wet or flooded lowland grassland, rivers, and intermittent freshwater marshes.
Behaviour
Very active birds. Will perch in trees.
References
Clements, J. F., T. S. Schulenberg, M. J. Iliff, S. M. Billerman, T. A. Fredericks, B. L. Sullivan, and C. L. Wood. 2019. The eBird/Clements Checklist of Birds of the World: v2019. Downloaded from http://www.birds.cornell.edu/clementschecklist/download/
Lepage D. (2020) [1] Avibase. Retrieved 21 September 2020
Recommended Citation
External Links