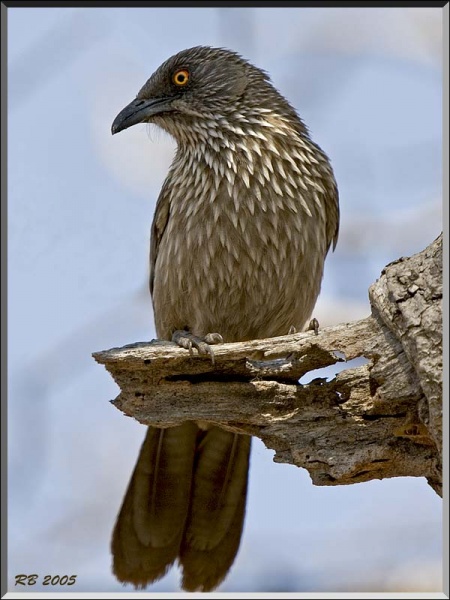 Alternative names: Arrow Babbler; Jardine's Babbler
Turdoides jardineii
Identification
Length 23-25 cm, mass 56-86 g.
Adult: Above brown, streaked blackish, with indistinct white spots on the rump and upper tail coverts; below brownish grey, streaked with white arrowhead markings; wings and tail dark brown. Eyes look light orange in the field, but the irises are actually orange with a red outer ring, or yellow with an orange outer ring. The bill, legs and feet are black.
Immature: Buffy; lacks white streaks; spotted dusky below; eye brown.
Distribution
North-eastern South Africa, eastern Botswana, north-eastern Namibia, Mozambique and Zimbabwe and north to Kenya and Cabinda (north-western Angola).
Taxonomy
Turdoides jardineii has eight subspecies that vary in the shade of the brown plumage and in size.
Subspecies[1]
T. j. jardineii (convergens):
Habitat
Thickets in woodland, savanna and secondary vegetation. Also exotic plantations and gardens.
Behaviour
Gregarious.
Flight
Flight straight with alternating fluttering and gliding; members of flock follow each other in loose succession from bush to bush. Roosts communally.
Diet
Invertebrates, lizards, seeds, fruit and nectar.
Forages on the ground and in undergrowth in noisy groups of 4-10 birds.
Breeding
This species breeds co-operatively; all members of a group (up to seven individuals) contribute to nest-building, incubation and feeding of nestlings. The nest is a mass of grass and twigs with a bowl-shaped hollow on top, lined with fibres and rootlets. It is usually 3-7 m above the ground in dense cover. Two to five eggs (usually three) are laid October to March in the south and throughout the year through most of its range. Eggs are plain turquoise or greenish blue.
The Arrow-marked Babbler is an important host of Levaillant's Cuckoo which parasitises 7-8% of nests in southern Africa.
Vocalisation
Voice: Nasal whirring ra-ra-ra-ra-ra, usually in chorus; harsh chak-chak-chak; 1 or 2 birds start calling, others join in crescendo, then calling dies away.
References
Clements, JF. 2008. The Clements Checklist of Birds of the World. 6th ed., with updates to December 2008. Ithaca: Cornell Univ. Press. ISBN 978-0801445019.
Hockey, PAR, WRJ Dean, and PG Ryan, eds. 2005. Roberts' Birds of Southern Africa. 7th ed. Cape Town: John Voelcker Bird Book Fund. ISBN 978-0620340533
Recommended Citation
External Links