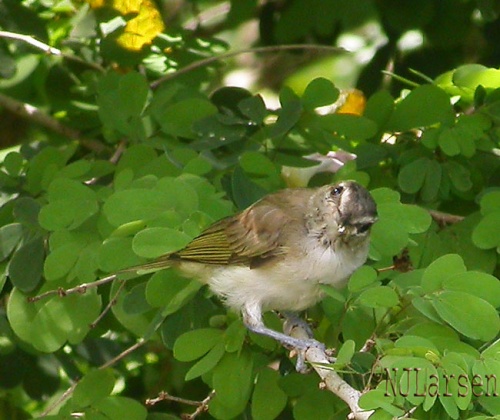 Vireo altiloquus
Identification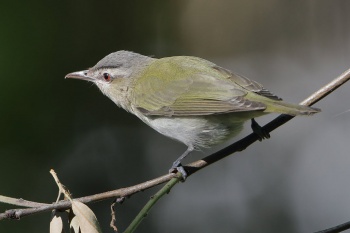 15–16·5 cm (6-6½ in)
Back olive without wing-bars, lighter underside. In the head, strong white eye-brow, dark line from base of bill to eye, and continued behind eye, black whiskers and a bill that looks disproportionately long.
Immature shows brown iris, browner plumage and a faint wingbar.
Similar Species
Red-eyed Vireo is the most similar species within the area, but has brighter green upperparts, whiter underparts, shorter bill, and lacks the whiskers. In some areas, this vireo is present in the "chivi" sub-species which is slightly different from the Red-eyed Vireos from the USA.
Distribution
Breeding in southern Florida and through most of the Caribbean. Partial migrant that is noted as a passage bird in e.g., Venezuela.
Known to winter to e.g., Brazil; even birds that don't leave the island of breeding may undergo e.g., altitudinal migration.
Taxonomy
Subspecies
There are six subspecies[1]:
Isla Providéncia and Isla Santa Catalina (westerm Caribbean Sea)
Isla San Andrés (western Caribbean Sea)
Habitat
Forests, mangroves, and gardens at most if not all altitudes.
Behaviour
Not quite as slow-moving as described in the Raffaele et al. Birds of the West Indies.
Diet
Gleans insects from leaves but also utilizes hovering. Their diet consists mostly of arthropods, such as weevils, beetles, caterpillars, bees and wasps.
References
Clements, J. F., T. S. Schulenberg, M. J. Iliff, S. M. Billerman, T. A. Fredericks, B. L. Sullivan, and C. L. Wood. 2019. The eBird/Clements Checklist of Birds of the World: v2019. Downloaded from http://www.birds.cornell.edu/clementschecklist/download/
Handbook of the Birds of the World Alive (retrieved June 2017)
BF Member observations
Recommended Citation
External Links
Search the Gallery using the scientific name:
Search the Gallery Using the common name:
GSearch checked for 2020 platform.