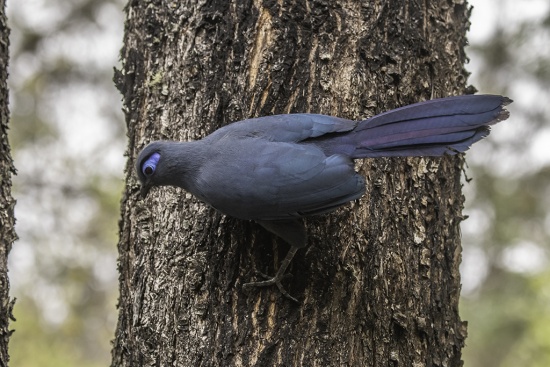 Alternative name: Blue Madagascar Coucal
Coua caerulea
Identification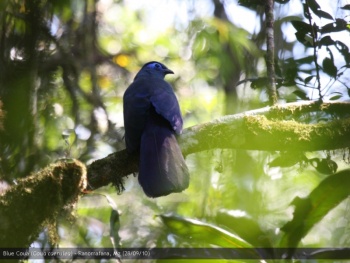 48–50 cm (19-19¾ in)

Dark blue plumage
Bare blue skin encircling the eye
Black bill
Similar Species
Similar to Crested Coua, which has a rufous breast.
Distribution
North-western and eastern Madagascar.
Taxonomy
This is a monotypic species[1].
Habitat
Occurs in evergreen humid forest and adjacent secondary growth and locally in the northwest in the drier forest.
Behaviour
Arboreal, usually found alone or in small groups. Moves clumsily through the canopy, travelling along the larger branches gleaning its prey from the foliage.
Diet
Diet consists insects, such as caterpillars, crickets, mantises, grasshoppers, beetles and cicadas. They also eat snails, geckos, chameleons and fruit.
Breeding
They construct a platform nest. A single egg is laid.
References
Clements, J. F., T. S. Schulenberg, M. J. Iliff, D. Roberson, T. A. Fredericks, B. L. Sullivan, and C. L. Wood. 2018. The eBird/Clements checklist of birds of the world: v2018. Downloaded from http://www.birds.cornell.edu/clementschecklist/download/
Handbook of the Birds of the World Alive (retrieved May 2019)
Avian Web
Recommended Citation
External Links