Alternative name: Cape Wigeon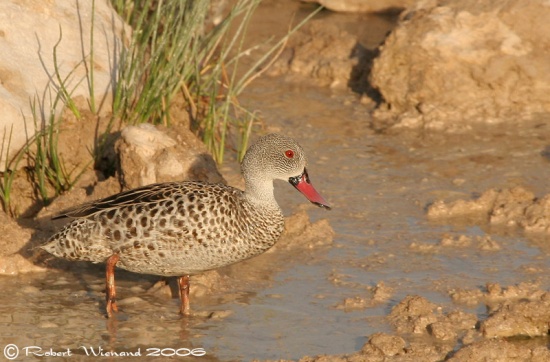 Anas capensis
Identification
Length 44-46 cm (17¾")

Adult
Speckled head
Pink bill
Pale and mainly grey plumage
Browner back
In flight shows dark greenish speculum surrounded by white
Sexes are similar although females average smaller chest spots and paler bill
Immature
Young birds lack the pink bill

Variations
Eye color variable. Usually ruby-red in the South; yellow in the North.
Similar Species
Red-billed Duck is darker with a distinct dark cap.
Distribution
Africa
Northern Africa: Libya and Egypt
Western Africa: Nigeria, Niger, Chad, Cameroon, DRC and Angola
Eastern Africa: Sudan, Ethiopia, Kenya, Burundi, Tanzania, Zambia and Mozambique
Southern Africa: Namibia, Botswana, Zimbabwe, South Africa, KwaZulu-Natal and Lesotho
Taxonomy
Sometimes placed in genus Nettion[4] This is a monotypic species[1].
Habitat
Open wetland areas of fresh or saline water. A species covered under AEWA[3].
Behaviour
A dabbling duck, they feed by dipping at the surface of the water.
Diet
Aquatic invertebrates (insects and their larvae, crustaceans) and small amphibians (tadpoles); also plant matter, principally seeds and leaves of Potamogeton pectinatus (Sago pondweed)
Breeding
The ground nest is placed under vegetation near water.
Vocalisation
Mostly silent.
Breeding male: a clear whistle Female: a quiet "quack".
Movements
Mainly sedentary, though may wander widely during droughts and appear well outside normal range.
References
Clements, J. F., T. S. Schulenberg, M. J. Iliff, D. Roberson, T. A. Fredericks, B. L. Sullivan, and C. L. Wood. 2017. The eBird/Clements checklist of birds of the world: v2017, with updates to August 2017. Downloaded from http://www.birds.cornell.edu/clementschecklist/download/
Avibase
African-Eurasian Waterbird Agreement
Carboneras, C. & Kirwan, G.M. (2018). Cape Teal (Anas capensis). In: del Hoyo, J., Elliott, A., Sargatal, J., Christie, D.A. & de Juana, E. (eds.). Handbook of the Birds of the World Alive. Lynx Edicions, Barcelona. (retrieved from https://www.hbw.com/node/52870 on 5 July 2018).
Hockey, PAR, WRJ Dean, and PG Ryan, eds. 2005. Roberts' Birds of Southern Africa. 7th ed. Cape Town: John Voelcker Bird Book Fund. ISBN 978-0620340533
Sinclair, I., Hockey, P.A.R., and Arlott, N. (2005). The Larger Illustrated Guide to Birds of Southern Africa. Struik, Cape Town. ISBN 978-1775840992
Wikipedia
Recommended Citation
External Links