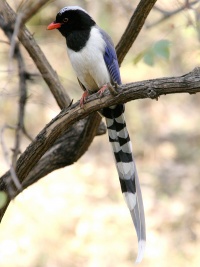 Genus: Urocissa
Description
A group of colourful Magpies from the forests of southern and eastern Asia.
All species have a mainly blue plumage, long tails and stout bills.
Taxonomy
Urocissa is a genus in the family Corvidae.
It is closely related to the genus Cissa and sometimes even merged with it.

References
Del Hoyo, J, A Elliott, and D Christie, eds. 2009. Handbook of the Birds of the World. Volume 14: Bush-shrikes to Old World Sparrows. Barcelona: Lynx Edicions. ISBN 978-8496553507
Pages in category 'Urocissa'
The following 5 pages are in this category, out of 5 total.