Alternative name: Giant Madagascar Coucal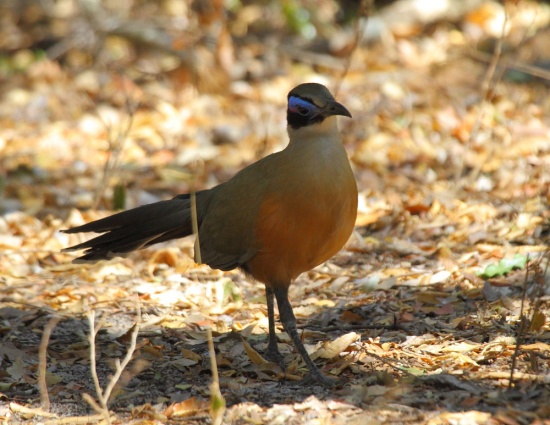 Coua gigas
Identification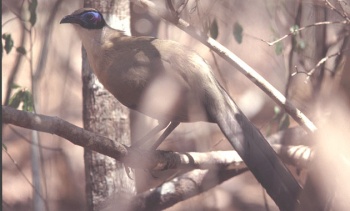 58-62cm. A large, terrestrial coua.
Dull olive-grey upperparts
Black face
Glossy blackish tail with white tips
Creamy white throat and upper breast, tan lower breast
Rufous to black belly
Blue bare skin around eye, pink behind eye, brown to red-brown iris
Black bill
Sexes similar. Juveniles are duller, have a pale bill and fawn spots on scapulars and wing.
Distribution
Endemic to Madagascar, thinly distributed in the west and south.
Fairly common in good forest which is rapidly vanishing in Madagascar. Very common at small Berenty Private Reserve.
Taxonomy
This is a monotypic species[1].
Habitat
Found in deciduous forest, gallery forest and thorn scrub.
Shares the habitat with Coquerel's Coua, Red-capped Coua and Running Coua.
From sea-level up to 800m.
Behaviour
Diet
Feeds on insects, occasionally takes seeds.
Forages on the ground among dead leaves.
Usually seen in pairs, sometimes singly or in small family groups.
Breeding
The nest is a bowl made of twigs, bark and large leaves. It's palced 3 to 10m above the ground in a tree. Lays 3 eggs.
Movements
A resident species.
References
Clements, J. F., T. S. Schulenberg, M. J. Iliff, B.L. Sullivan, C. L. Wood, and D. Roberson. 2013. The eBird/Clements checklist of birds of the world: Version 6.8., with updates to August 2013. Downloaded from http://www.birds.cornell.edu/clementschecklist/download/
Del Hoyo, J, A Elliot, and J Sargatal, eds. 1997. Handbook of the Birds of the World. Volume 4: Sandgrouse to Cuckoos. Barcelona: Lynx Edicions. ISBN 978-8487334221
Recommended Citation
External Links