Alternative name: Grey-breasted Spurfowl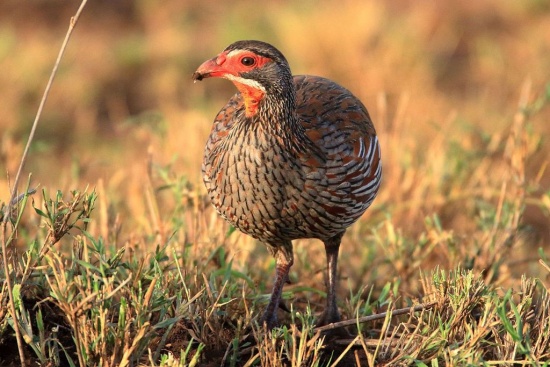 Pternistis rufopictus
Identification
32–41 cm (12½-16 in)
Similar Species
Distribution
Africa: endemic to north-western Tanzania (Lake Victoria to Serengeti and south to Wembere)
Taxonomy
This is a monotypic species[1].
Formerly placed in genus Francolinus.
Habitat
Plains and savannas, with a rainfall around 500-700mm annually.
Behaviour
Diet
Their main diet consists of sedge tubers and seeds, with the addition of insects such as grasshoppers and termites.
Breeding
They are monogomous and territorial. They make a depression in the ground for their nest.
References
Clements, J. F., T. S. Schulenberg, M. J. Iliff, D. Roberson, T. A. Fredericks, B. L. Sullivan, and C. L. Wood. 2017. The eBird/Clements checklist of birds of the world: v2017, with updates to August 2017. Downloaded from http://www.birds.cornell.edu/clementschecklist/download/
Handbook of the Birds of the World Alive (retrieved July 2015)
Recommended Citation
External Links