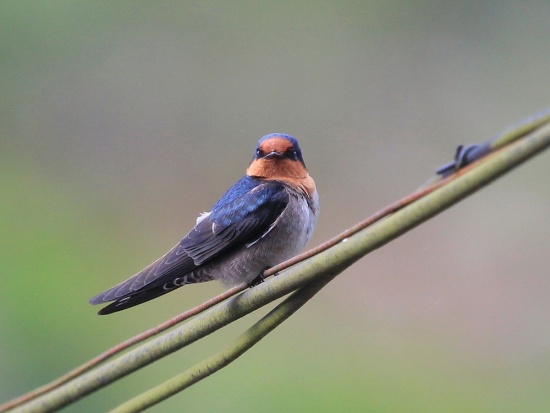 Hirundo domicola
Identification
13–14 cm (5-5½ in)
Blue back
Brown wings and tail
Red face and throat
Dusky underparts

Sexes similar.
Juveniles are browner.
Similar Species
Similar to Barn Swallow and Welcome Swallow but is shorter and the tail is less forked. Especially compared to Barn Swallow, the lack of dark blue breast band and the presence of dusky flanks are useful (although east Asian Barn Swallow has less extensive breast band than some other subspecies).
Distribution
Taxonomy
This is a monotypic species.
It was formerly considered conspecific with Pacific Swallow.
Habitat
Coasts, but is increasingly spreading to forested uplands.
Behaviour
Diet
Diet includes insects, especially flies, while airborne.
Breeding
They build nests of mud and pellets combined with dry grasses on vertical surfaces with overhangs. The clutch contains 3 white eggs with brown spots.
Vocalisation
Call: high pitched tweet in alarm; otherwise a cheerful twittering.
References
Clements, J. F., T. S. Schulenberg, M. J. Iliff, D. Roberson, T. A. Fredericks, B. L. Sullivan, and C. L. Wood. 2018. The eBird/Clements checklist of birds of the world: v2018. Downloaded from http://www.birds.cornell.edu/clementschecklist/download/
Birdforum discussion of id features including this species.
Handbook of the Birds of the World Alive (retrieved November 2018)
Recommended Citation
External Links