Apus nipalensis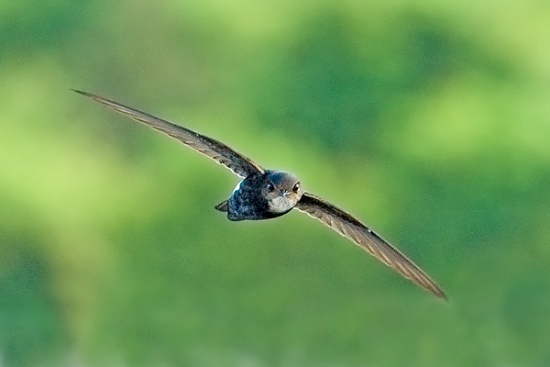 Identification
15cm. Black with prominent white rump; throat white; wings long, slender, scimitar-shaped; tail square not deeply forked, appears rounded when fanned. Genders look alike.
Juvenile: head and body narrowly grey-fringed; flight feathers finely edged in white.
Distribution
Southeast Asia. From the Nepal to the east into SE China, Myanmar, Thailand, Vietnam, Laos, Cambodia, Malaysia to Indonesia (Borneo, Sumatra, Java) and the Philippines. Also on Taiwan and S Japan.
Common in most of its range and not globally threatened.
Taxonomy
Forms a superspecies with Little Swift Apus affinis and is often considered conspecific. As this species is sometimes also called Little Swift confusion is possible.
Four subspecies are recognised:
Habitat
They forage at about 200m above the forest canopy, or 100m above open ground.
House swifts are found mostly in open habitats suited for this foraging method.
Behaviour
Diet includes flying insects: mainly flying ants and termites (about 60%); bees and wasps (20%) and beetles.
Nests are built close to each other on sheer vertical surfaces. In the wild, they make their nests on limestone cliffs, but they have adapted to human constructions and now colonise buildings, jetties and bridges; including those in busy urban areas. 2-3 white eggs are laid. The chicks are fed regurgitated insects.
External Links