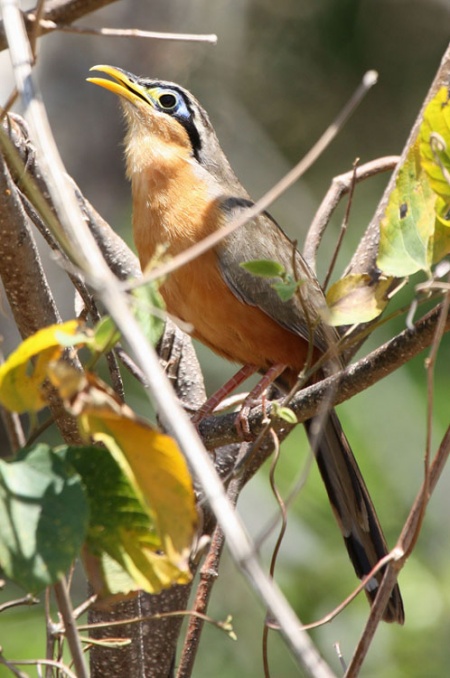 Alternative name: Rufous-rumped Cuckoo
Morococcyx erythropygus
Identification
25 cm (10-11 inches) long.
Greyish brown upperparts with bronzy reflections on wings and long tail
Rufous underparts
Yellow bare eye-ring and lores, bare skin behind eye blue with black border
Brown eye
Yellow bill with black culmen
erythropygus is larger and paler
Sexes similar. Juveniles are duller above, scaled with pale feather edges and paler below, smudged dusky. Their bare orbital skin is grey, the bill brown above and lighter below.
Distribution
Mexico through Central America south to northern Costa Rica.
Fairly common in its range.
Taxonomy
Two subspecies are recognized:
M. e. mexicanus on the Pacific slope of tropical western Mexico from southern Sinaloa south to Isthmus of Tehuantepec
M. e. erythropygus from southern Mexico (hills of Oaxaca on eastern side of Plains of Tehuantepec east to Chiapas) to northwest Costa Rica, and also arid interior valleys on Caribbean slope of Guatemala and Honduras
Habitat
Undergrowth in woodland and scrub, mostly in arid areas.
Occurs from sea-level up to 1500m, locally up to 1800m.
Behaviour
Stays low in dense cover. A furtive, skulking but inquisitive bird. Not shy.
Diet
Feeds on insects, mainly on grasshoppers. Forages on bare ground and in understorey.
Breeding
Breeding season May in southern Mexico, July in Guatemala. The nest is a shalow bowl made of sticks. It's placed on the ground. Lays 2 eggs.
Movements
A resident species.
References
Clements, J. F., T. S. Schulenberg, M. J. Iliff, B.L. Sullivan, C. L. Wood, and D. Roberson. 2013. The eBird/Clements checklist of birds of the world: Version 6.8., with updates to August 2013. Downloaded from http://www.birds.cornell.edu/clementschecklist/download/
Del Hoyo, J, A Elliot, and J Sargatal, eds. 1997. Handbook of the Birds of the World. Volume 4: Sandgrouse to Cuckoos. Barcelona: Lynx Edicions. ISBN 978-8487334221
Recommended Citation
External Links