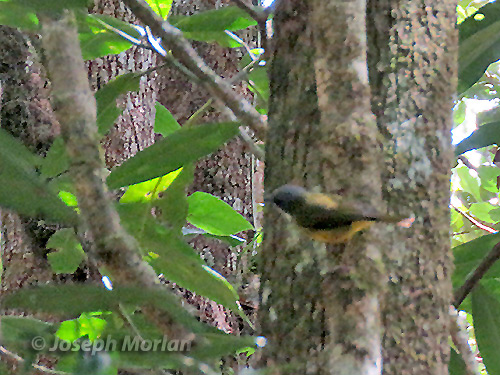 Pachycephala caledonica
Identification
14 - 16cm. (5½-6¼ in.)
Male:
Ashy grey crown and side of head
Sometimes a trace of a yellow collar on nape
Greenish-olive upperparts and tail
White chin and throat
Narrow dull black breastband
Dull yellow rest of underparts
Black bill and legs
Female:
Olive-brown upperparts
Greenish-olive tail
Off white underparts with breast and side of belly washed light greyish-brown
Tinged yellow undertail-coverts
Immatures have prominent rufous markings on wings.
Distribution
New Caledonia, Isle of Pines.
Common in suitable habitat.
Taxonomy
Formerly treated conspecific with Golden Whistler and with Vanuatu Whistler (another split from Golden Whistler)

Subspecies
This is a monotypic species[1]. Former subspecies P. c. littayei on Loyalty Islands (Lifou and Maré) now included in Vanuatu Whistler.
Habitat
Moist lowland forests and montanes. Occurs from sea-level to 900m.
Behaviour
Diet
Feeds on insects, takes occasionally seeds and small snails.
Breeding
Breeding season from December to January. The nest is a cup made of fine twigs. It's placed 1.5 to 10.5.m above the ground. Lays 2 white eggs.

Movements
Resident species.
References
Clements, J. F., T. S. Schulenberg, M. J. Iliff, S. M. Billerman, T. A. Fredericks, B. L. Sullivan, and C. L. Wood. 2019. The eBird/Clements Checklist of Birds of the World: v2019. Downloaded from http://www.birds.cornell.edu/clementschecklist/download/
Gill, F & D Donsker (Eds). 2019. IOC World Bird List (v9.2). doi : 10.14344/IOC.ML.9.2. Available at http://www.worldbirdnames.org/
Del Hoyo, J, A Elliott, and D Christie, eds. 2007. Handbook of the Birds of the World. Volume 12: Picathartes to Tits and Chickadees. Barcelona: Lynx Edicions. ISBN 978-8496553422
Boles, W. (2019). New Caledonian Whistler (Pachycephala caledonica). In: del Hoyo, J., Elliott, A., Sargatal, J., Christie, D.A. & de Juana, E. (eds.). Handbook of the Birds of the World Alive. Lynx Edicions, Barcelona. (retrieved from https://www.hbw.com/node/59356 on 3 December 2019).
Dutson, G. (2011) Birds of Melanesia, Christopher Helm, London.
Recommended Citation
External Links