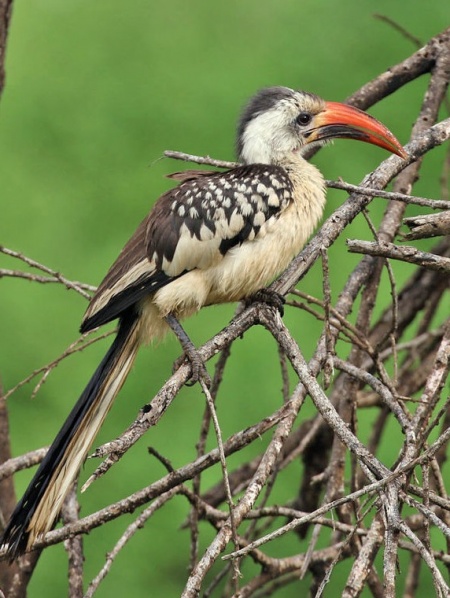 Tockus erythrorhynchus
Identification
35 cm (13¾ in); A small, black-and-white Hornbill.
Spotted wing-coverts
Black tail with white in outer tail
Long, slender red bill with dark patch on lower mandible
Yellow to pinkish bare skin around eye and on throat
Brown eyes
Females are smaller and have only a small dark patch on the lower mandible.
Juveniles are similar to males but have a shorter and pale orange bill.
Distribution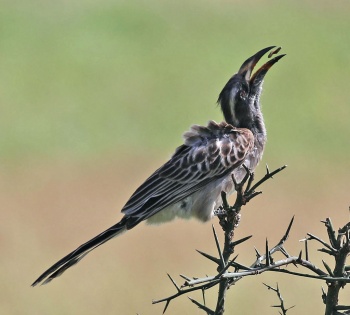 From Sierra Leone east to Somalia and south to Tanzania.
Taxonomy
This is a monotypic species.
Was formerly considered included in Red-billed Hornbill.
Habitat
Tree and bush savanna.
Behaviour
Diet
Feeds mainly on insects but takes also small vertebrates like geckos, nestlings and rodents. Some fruits and grain eaten, too.
Feeds mainly on the ground.
Breeding
Breeding season from March to November. Nest in a natural cavity or in an old barbet or woodpecker hole. The female seals the entrance with her own droppings and food remains. There is one narrow entrance through which the male passes food to the mother and chicks. Lays 2 - 7 eggs.
Often takes over nest of other hornbill species.
Movements
Undertakes food-related local movements.
References
Del Hoyo, J, A Elliot, and J Sargatal, eds. 2001. Handbook of the Birds of the World. Volume 6: Mousebirds to Hornbills. Barcelona: Lynx Edicions. ISBN 978-8487334306
Clements, J. F., T. S. Schulenberg, M. J. Iliff, D. Roberson, T. A. Fredericks, B. L. Sullivan, and C. L. Wood. 2018. The eBird/Clements checklist of birds of the world: v2018. Downloaded from http://www.birds.cornell.edu/clementschecklist/download/
Recommended Citation
External Links
GSearch checked for 2020 platform.