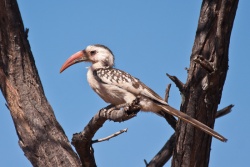 Genus: Tockus
Description
Several species of African Hornbills.
One of the smallest genus of all Hornbills
They live in savanna or woodland
They carry only a single item in the tip of the bill to the nest
They feed mainly on insects
In display they bow their head while uttering clucking calls
Like other in other hornbills the entrance to the nest hole is sealed and the female stays on the nest being fed by the male
Taxonomy
Tockus is a genus in the Family Bucerotidae.
Long-tailed Hornbill is often included in this genus. Some species have been moved to the genera Lophoceros and Horizocerus.
References
Del Hoyo, J, A Elliot, and J Sargatal, eds. 2001. Handbook of the Birds of the World. Volume 6: Mousebirds to Hornbills. Barcelona: Lynx Edicions. ISBN 978-8487334306
Recommended Citation
Pages in category 'Tockus'
The following 10 pages are in this category, out of 10 total.