Dendrocygna eytoni
Identification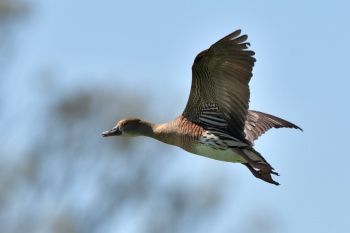 40–45 cm (15¾-17¾ in)
Tall bird with a long neck
Pale face and foreneck
Light brown hind neck and crown
Brown upper back
Chestnut breast with black bars
Pink and grey bill
Pink feet and legs

Sexes similar
Similar Species
Paler then Wandering Whistling Duck
Distribution
Asia and Australia:
Southeast Asia: Indonesia
Australasia: New Guinea, Australia: Lord Howe Island, New South Wales, Northern Territory, Queensland, South Australia, Victoria and Western Australia
Taxonomy
This is a monotypic species[1].
Habitat
Margins of lagoons, pools, swamps, marshes, mangroves. Particularly fond of plains, grassland and meadows.
Behaviour
They form large mixed species communal daytime roosts.
Diet
They have a basically vegetarian diet, eating grasses, herbs, sedges and seeds. They feed at night and may fly some distance to the feeding grounds.
Breeding
The nest is a grass-lined ground scrape sheltered by a bush or some other vegetation. The clutch consists of 10-12 white eggs, both adults share the incubation and rearing duties. They are monogamous, forming a bond which may be for life.
References
Clements, J. F., T. S. Schulenberg, M. J. Iliff, D. Roberson, T. A. Fredericks, B. L. Sullivan, and C. L. Wood. 2018. The eBird/Clements checklist of birds of the world: v2018. Downloaded from http://www.birds.cornell.edu/clementschecklist/download/
Avibase
Handbook of the Birds of the World Alive (retrieved Oct 2017)
Birds in Backyards
Recommended Citation
External Links