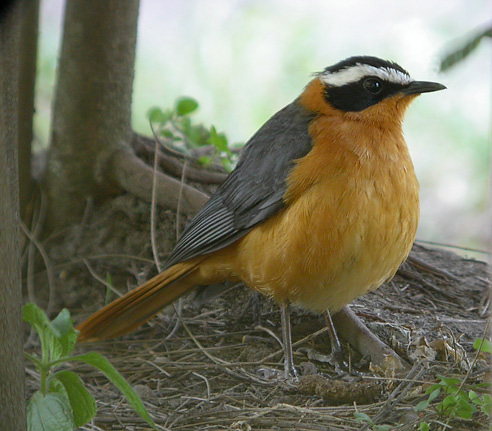 Alternative names: Lesser Robin-chat; Black-tailed Robin-chat
Cossypha semirufa
Identification
18-19 cm.
Black head with long, broad white supercilium
Olive-brown mantle to lower back and scapulars
Dark brown wings
Orange-rufous rump to tail
Blackish central tail feathers, other feathers partly black on outer webs
Orange-rufous underparts, paler on mid-belly
Black bill
Brownish-grey legs
donaldsoni with darker upperparts with a slight grey-blue cast and an almost full rufous hindcollar
intercedens like donaldsoni but larger and with darker, chestnut rump and outer tail
Sexes alike. Juveniles are scaled blackish and lack the supercilium.
Similar species
Smaller than White-browed Robin-Chat and with darker wings and black central tail.
Distribution
Eastern Africa: South Sudan, Eritrea, Ethiopia, Kenya and Tanzania.
Common to locally abundant in its range.
Taxonomy
Three subspecies recognized:
Habitat
Moist montane forests and shrubland. Also in country and suburban gardens, often at forest edge.
Occurs from 1400 to 2300 m in East Africa, from 1000 to 3200 in Ethiopia.
Behaviour
Diet
Feeds on insects like beetles, caterpillars, moths, grasshoppers and mantises. Forages at driver-ant swarms and sometimes close to smaller mammals, catching insects disturbed by their passage.
Breeding
Breeding season March to August in Ethiopia and March to June (one record in December) in Kenya. The nest is an open cup made of dead twigs, rootlets, moss and leaf skeletons. It's placed 1 to 2.5 m off the ground in shrub, tree hole, stump or hanging basket in gardens. Lays 2 to 3 eggs. Often parasitised by Red-chested Cuckoo in Kenya.
Movements
This is a sedentary species.
Reference
Clements, J. F., T. S. Schulenberg, M. J. Iliff, D. Roberson, T. A. Fredericks, B. L. Sullivan, and C. L. Wood. 2017. The eBird/Clements checklist of birds of the world: v2017, with updates to August 2017. Downloaded from http://www.birds.cornell.edu/clementschecklist/download/
Gill, F and D Donsker (Eds). 2015. IOC World Bird Names (version 5.2). Available at http://www.worldbirdnames.org/.
Handbook of the Birds of the World Alive (retrieved May 2015)
Recommended Citation
External Links