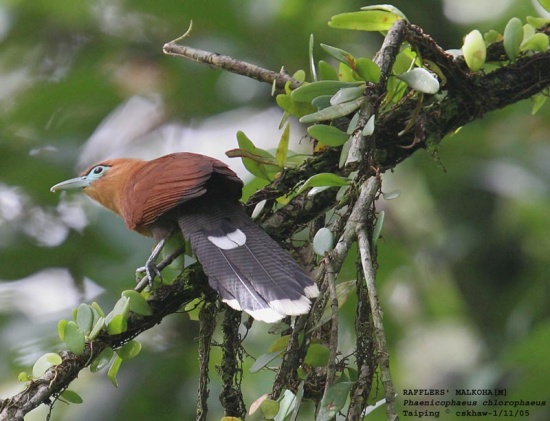 Rhinortha chlorophaea
Phaenicophaeus chlorophaeus
Identification
30–33cm (11¾-13 in). The only Malkoha with marked sexual dimorphism.
Male
Rufous upperparts
Rufous head
Black tail finely barred grey and with broad white tip
Rufous throat and breast
Dark grey belly, grey vent
Light blue-green bare skin around eye
Female
Light grey head and mantle
Rufous back, wings and tail
Tail with black subterminal band and white tip
Grey underparts
Chestnut vent
Juveniles are similar to adults but male immatures have an indistinct dusky barring on rectrices, female immatures have buffy to rufous head and throat and their rectrices are narrower with much-reduced white tips.
Distribution
Found from southern Burma and southern Thailand to peninsular Malaysia and Singapore to Sumatra and Borneo.
Common in suitable habitat. No recent records in Singapore.
Taxonomy
Formerly placed in genus Phaenicophaeus.
Subspecies
This as a monotypic species[1].
The formerly recognized subspecies fuscigularis from northwest Borneo is no longer accepted by any of the worldlists.
Habitat
Subtropical or tropical moist lowland forests. Also in secondary growth, grass swamps, overgrown rubber and cocoa plantations and locally in gardens and mangroves.
Occurs from lowlands up to 1100m.
Behaviour
Diet
Feeds on insects, mainly caterpillars. Takes also large spiders. Forages by creeping through dense vegetation, moving around looking like a squirrel. Usually seen singly or in pairs.
Breeding
Breeding recorded in January, April and May. The nest is a shallow saucer made of twigs and green leaves. It's placed 3m above the ground. Lays 2 to 3 eggs.
Movements
A resident species.
References
Dickinson, EC, ed. 2003. The Howard and Moore Complete Checklist of the Birds of the World. 3rd ed., with updates to December 2007 (Corrigenda 7). Princeton: Princeton Univ. Press. ISBN 978-0691117010
Gill, F and M Wright. 2008. Birds of the World: Recommended English Names. Princeton University Press, Princeton NJ, USA. 2006. ISBN 9780691128276. Update (2008) downloaded from http://worldbirdnames.org/names.html.
Clements, J. F., T. S. Schulenberg, M. J. Iliff, D. Roberson, T. A. Fredericks, B. L. Sullivan, and C. L. Wood. 2016. The eBird/Clements checklist of birds of the world: v2016, with updates to August 2016. Downloaded from http://www.birds.cornell.edu/clementschecklist/download/
Del Hoyo, J, A Elliot, and J Sargatal, eds. 1997. Handbook of the Birds of the World. Volume 4: Sandgrouse to Cuckoos. Barcelona: Lynx Edicions. ISBN 978-8487334221
Recommended Citation
External Links