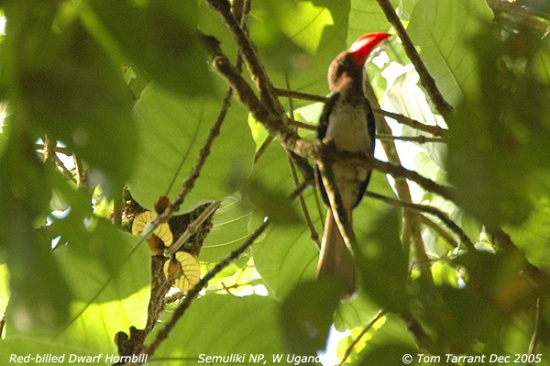 Lophoceros camurus
Identification
30cm. The smallest hornbill with a distinctive chestnut colour.
Chestnut plumage with white-spotted wing-coverts and white edges to flight feathers
White belly
Bright red bill
Brown bare skin around eye
Females are smaller and have a black tip on the bill.
Juveniles have smaller, pale orange bills.
Distribution
Found in tropical Africa from southern Sierra Leone to Democratic Republic of the Congo, northwestern Angola (Cabinda), southwestern South Sudan and western Uganda.
Widespread and common in parts of its range.
Taxonomy
This is a monotypic species.
Formerly placed in the genus Tockus.
Bird west of Nigeria were formerly treated as race pulchrirostrirs.
Habitat
Dense understorey of primary, secondary and gallery forest.
Occurs up to 800m.
Behaviour
Feeds mainly on insects, takes also lizards. Rarely fruit.
Usually seen in groups of 6 or more birds. Follows squirrels and driver-ants to forage for the insects they disturb.
Little known about breeding. Nests in a natural cavity in a tree, the entrance sealed to a narrow slit.
References
Clements, J. F., T. S. Schulenberg, M. J. Iliff, D. Roberson, T. A. Fredericks, B. L. Sullivan, and C. L. Wood. 2017. The eBird/Clements checklist of birds of the world: v2017, with updates to August 2017. Downloaded from http://www.birds.cornell.edu/clementschecklist/download/
Del Hoyo, J, A Elliot, and J Sargatal, eds. 2001. Handbook of the Birds of the World. Volume 6: Mousebirds to Hornbills. Barcelona: Lynx Edicions. ISBN 978-8487334306
Recommended Citation
External Links