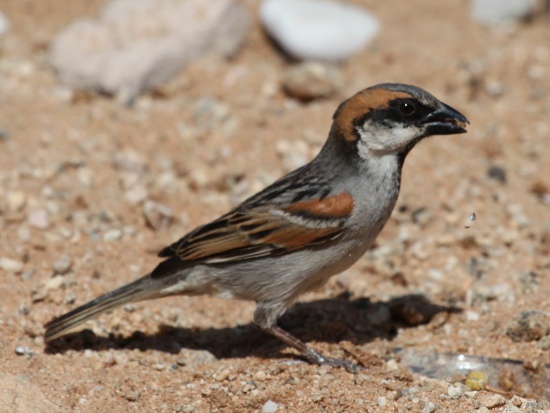 Passer insularis
Identification
13 - 14cm. The only sparrow in its range.
Male
Grey forehead to hindneck and entire upperparts
Prominent black eyestripe
Broad rufous-chestnut band from above eye and in crescent around rear of light greyish ear-coverts
White cheek
Back streaked black
Prominent chestnut on scapulars
Blackish to dark brown upperwings
Broad white tips on median coverts
Dark brown tail
Greyish underparts
Female
Drab brown with greyer upperparts
Streaked on back
Warm buff supercilium
Juveniles resemble females.
Similar species
Abd al-Kuri Sparrow is much paler.
Distribution
Found on Socotra and adjacent islets of Samha and Darsa (Yemen) in the Indian Ocean, off the Horn of Africa.
Restricted-range species but common to abundant in its range.
Taxonomy
This is a monotypic species.
Abd al-Kuri Sparrow was formerly included in this species.
Some authorities consider the Socotra Sparrow to be a subspecies of Passer motitensis, the Rufous Sparrow.
Habitat
Dry areas and towns. Occurs up to 1500m.
Behaviour
Few information about diet. Probably feeds on seeds of grasses and small plants.
Often seen in flocks of 30 to 50 birds.
Breeding season from November to April. Usually two broods. Breeds in colonies of up to ten pairs. The nest is an untidy construction maed of dead grass and placed in a hole in a cliff, a house or tree, also openly in branches of a thorny tree. Lays 3 eggs.
A resident species.

References
Clements, J. F., T. S. Schulenberg, M. J. Iliff, D. Roberson, T. A. Fredericks, B. L. Sullivan, and C. L. Wood. 2014. The eBird/Clements checklist of birds of the world: Version 6.9., with updates to August 2014. Downloaded from http://www.birds.cornell.edu/clementschecklist/download/
Gill, F and D Donsker (Eds). 2014. IOC World Bird Names (version 4.3). Available at http://www.worldbirdnames.org/.
Del Hoyo, J, A Elliott, and D Christie, eds. 2009. Handbook of the Birds of the World. Volume 14: Bush-shrikes to Old World Sparrows. Barcelona: Lynx Edicions. ISBN 978-8496553507
Recommended Citation
External Links