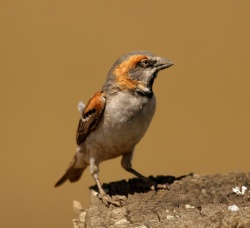 Genus: Passer
Description
Sparrows of Africa and Eurasia, introduced also in North America, South America and Australia.
They are:
Similar in size and body structure
The bill of the male becomes black in breeding season and horn-coloured outside breeding season (except a few with a black bill all year)
They are social species
They have similar behaviour (eg bathing in water and dusting in sand or dust)
Many are associated with man
Taxonomy
Passer is a genus in the family Passeridae.
The genera Auripasser (Arabian Golden Sparrow and Sudan Golden Sparrow) and Sorella (Chestnut Sparrow) are now generally accepted to belong to this genus.
References
Clements, JF. 2009. The Clements Checklist of Birds of the World. 6th ed., with updates to December 2009. Ithaca: Cornell Univ. Press. ISBN 978-0801445019.
Del Hoyo, J, A Elliott, and D Christie, eds. 2009. Handbook of the Birds of the World. Volume 14: Bush-shrikes to Old World Sparrows. Barcelona: Lynx Edicions. ISBN 978-8496553507
Recommended Citation
Pages in category 'Passer'
The following 28 pages are in this category, out of 28 total.