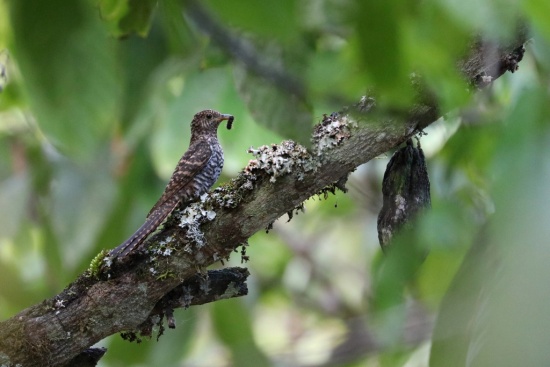 Alternative name: Sulawesi Hawk-Cuckoo; Celebes Hawk-Cuckoo
Cuculus crassirostris
Identification
34cm (13½ in)
Grey-brown upperparts with unbanded outer wing
Grey head
White underparts with black bars
Black, rufous and white barred tail
Yellow eye-ring
Brown to black bill with greenish base
Sexes similar. Juveniles are rufous above, have a black head and buffy-white underparts.
Distribution
Endemic to the mountains of northern and central Sulawesi.
Uncommon and difficult to observe.
Taxonomy
This is a monotypic species.
It's often placed in the genus Hierococcyx along with other Hawk-cuckoos.
Habitat
Primary forest. Occurs from 500m to 1400m.
Behaviour
Diet
Feeds on insects, including termites.
Breeding
No information about breeding.
Movements
Apparently a resident species.
References
Clements, J. F., T. S. Schulenberg, M. J. Iliff, D. Roberson, T. A. Fredericks, B. L. Sullivan, and C. L. Wood. 2018. The eBird/Clements checklist of birds of the world: v2018. Downloaded from http://www.birds.cornell.edu/clementschecklist/download/
Del Hoyo, J, A Elliot, and J Sargatal, eds. 1997. Handbook of the Birds of the World. Volume 4: Sandgrouse to Cuckoos. Barcelona: Lynx Edicions. ISBN 978-8487334221
Recommended Citation
External Links